John Opie's painting "A Gentleman and a Miner" with my commentary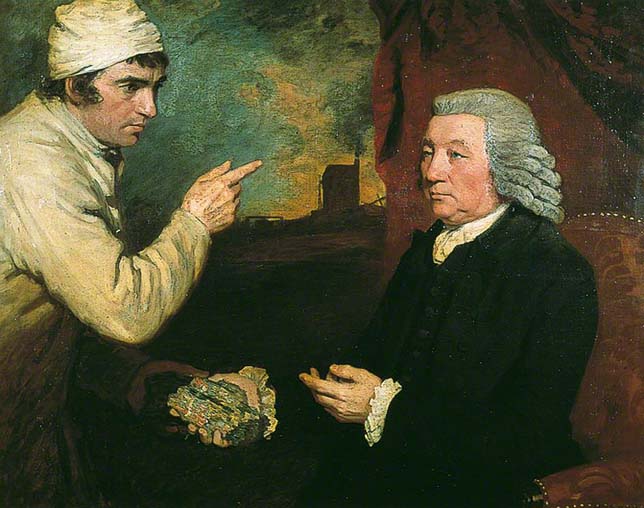 John Opie
John Opie (1761-1807) was a prominent Cornish painter whose work alternated between fashionable portraiture and historical work. Most of Opie's portraits were commissioned by well off sitters and it is comparatively rare to find a miner or manual worker among his subjects.
The "Gentleman"
The Royal Cornwall Museum, who are owners of the painting, identify the "Gentleman" as the Truro merchant and leading mine owner Thomas Daniell (1715-1793). Thomas owned tin and copper mines at Great Towan, in Gwennap and elsewhere, and was so successful that he was known as "guinea a minute Daniell". He is shown holding a specimen of copper ore which the miner has probably presented to him. Early sources stated that the sitter is Ralph Allen DANIELL (1762-1823), the son of Thomas, but the paining was exhibited at the Royal Academy in 1786 and the "Gentleman" portrayed could be under about 70 but not under 24!
The "Miner"
I believe that the miner in the painting has been wrongly identified, in several internet sources, as Thomas Morcom who, in the Royal Cornwall Museum website, is described as possibly "Captain Thomas Morcom who in 1793, with Richard Trevithick, made trials of pumping engines at Seal Hole Mine, St Agnes". I cannot identify this Thomas Morcom in my database, but one internet source mentions an influential Captain Thomas MORCOM at Dolcoath mine, Camborne. The same source suggests that the mine in the background may be Wheal Towan, St Agnes.
I give below my strong evidence that it was Joseph Morcom(1744-1827) who was speaking, with apparent authority, to the rich mine owner, though I have no direct knowledge that the two men knew each other.
Captain Joseph Morcom was living at Whitehall, Chacewater, from before 1780 to after 1813. Whitehall was within four miles of Seal Hole. There were three large houses, adjacent to each other, in Whitehall. Joseph's neighbours were Jonathan HORNBLOWER and, in 1782-4, Matthew Boulton, partner of James Watt. Watt himself had stayed in 1777-78 at an engineer Mr Wilson's house at Whitehall. Joseph Morcom was certainly closely acquainted with the Hornblower family and must have met Boulton and Watt.
In 1781 Jonathan Hornblower patented a double cylinder steam engine but development was delayed, partly by an accusation that he had broken the Boulton and Watt patent. In 1791 Hornblower enlisted the help of 20 yr old Richard Trevithick (who later built the first full-scale working railway steam locomotive) to install and assess a successful model of the Hornblower engine at Tincroft mine. At the same time, Captain Joseph MORCOM was making a trial of a small Boulton & Watt engine at nearby Seal Hole mine. Comparison of the two engines was claimed to favour Hornblower's engine, but there were accusations that the Boulton and Watt engine was less powerful than most of its kind.
In my opinion, unless there is more evidence to prove that Captain Thomas Morcom was the miner in Opie's painting, then Joseph Morcom's connections and work at Seal Hole make him a stronger candidate.
---
To the next section - Two songs about "Cousin Jacks" i.e. Cornish miners
OR
Back to - Main menu