Migration within England and Wales
Between Cornwall and Devon
The picture of migration in both directions is too complex to be easily analyzed. Movements of MORCOMs from Cornwall to Devon were more numerous than MORCOMBEs to Cornwall. The MORCOMs, moving east over the Tamar, were largely pursuing a wide range of commercial jobs, although there was also a sizeable movement of miners, including a few captains, to Devon mines, especially around Dartmoor and near Combe Martin. It is noticeable that families who moved once were more likely to migrate again.
The numbers of MORCOMBEs migrating to Cornwall were relatively few, and roughly matched by a few families who had been in Cornwall as far back as I can trace. However, it is possible that some of these early families were originally MORCOMs. The tendency of parish clerk to use the local spelling, or guess the spelling, when writing down what an illiterate person gave as his/her surname, can easily lead one astray about the origin of families. Movements from rural Devon were largely due to the 19th century agricultural depression, and as Cornwall's agricultural and mining economy was suffering at the same time, Australia and Canada were more inviting destinations for Devon families
A number of Cornish (as well as Devon) families moved to Plymouth, and some of these eventually emigrated to Australia or North America. The population of the conurbation of Plymouth, Devonport, Stoke Damerel and Stonehouse grew from 43,194 to 193,184 during the 1800s. The continuing expansion of the Royal Docks, increasing number of military establishments, and a variety of other trades, attracted migrants from elsewhere in the South West. The population pressure led to the demand for housing to outstrip supply, and many families had to live in crowded and insanitary conditions, leading to cholera outbreaks in 1832 and 1849. As late as 1871, there were still a number of census enumeration districts where there was an average of 12 people for each inhabited building.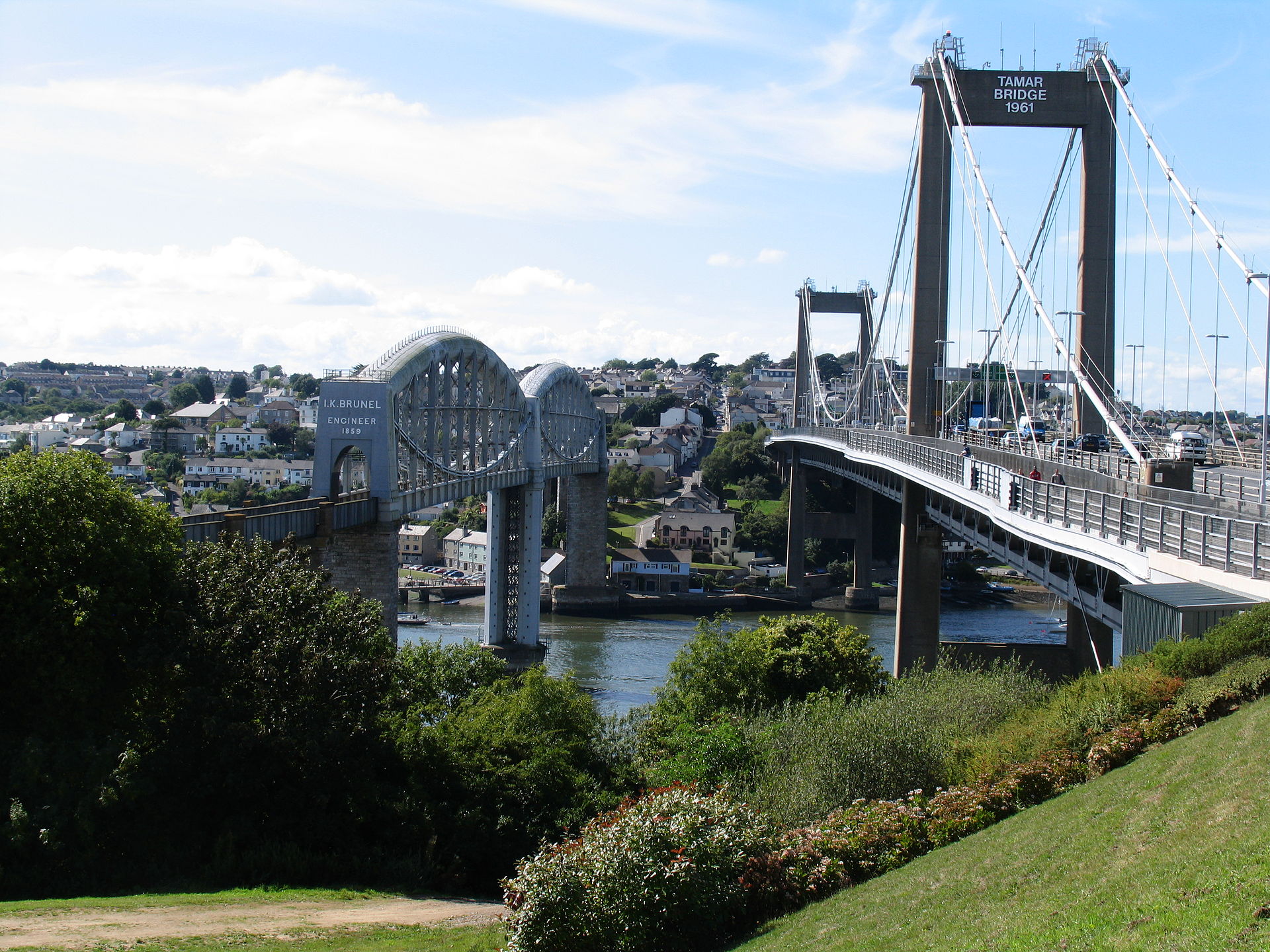 The Tamar Bridges between Devon and Cornwall. The Royal Albert Bridge, on the left, a unique design by Isambard Kingdom Brunel, was opened by Prince Albert in 1859 ©Simon James from Darlington, UK
South Wales
We have recorded 643 MORCOM/BEs and close relatives in South Wales, mainly in Glamorgan, with far smaller "colonies" in Monmouthshire, Carmarthenshire and Pembrokeshire. This number is greater even than for movement to London, the chief destination for migration from most of the southern counties of England. The reasons for this migration to Wales stemmed partly from the centuries old close commercial ties between Cornwall and Devon and the ports of Swansea and to a lesser extent Neath, but the major reason was the declining mining industries of the South West after c.1840, and the contrasting expanding industrial economy of easily accessible South Wales. The population of Swansea grew from 6,099 in 1801 to 94,537 in 1901. The port's foreign trade was so important that by 1884 twenty five countries had consulates in the town. Three MORCOM/BE "patriarchs", who later had many descendants in Glamorgan, had arrived in Swansea or Neath by the 1841 or 1851 censuses.
Although there had been some earlier trading, the commercial link with South Wales began to grow rapidly in the late eighteenth century. Copper was the main cargo shipped from Cornwall and Devon to Swansea and Neath. Tin was mined in much smaller quantities and, because much less fuel was needed, the ore was often smelted near the mines, and then exported, largely as ingots, to the tinplate industry in West Glamorgan. The output of copper from the Cornwall and Devon mines reached a peak of 206,177 tons in 1856. Foreign competition resulted in output dropping to 20,000 tons by c.1885, and to virtually nil by 1900. Because much more coal was needed to smelt copper, it was more economical to ship the ore to the smelters of Swansea, Neath, Port Talbot and Llanelly which were near coal mines. As the use of steam power, to pump out water from the Cornish and Devon mines, increased rapidly in the early nineteenth century, the ore ships brought back coal to the West Country mines. By the 1850s there were about 150 vessels engaged in the trade, providing employment for about 700 seamen. About 80% of the boats came from Swansea and 20% from Neath. They traded with Devoran, Hayle, Portreath, Looe and Calstock. The number of West Country ports was probably dictated by the early use of mules and pack horses to transport ore from nearby mines, though later most of the ports developed rail and canal links. Because of the limitations of many of these ports, most of the iron ore boats were under 150 tons with shallow draughts. By the 1850s there were almost 2000 voyages a year from South Wales to the South West ports. Families could probably get a passage on one of these boats and be in Swansea within 24 hours instead of about two days by stage coach.
The MORCOM/BE men who went to the coalfields of N.E.England and iron ore mines of Cumbria almost all found their first employment in the local mines. However, in South Wales, I have only found seven MORCOM/BE men who are recorded, in any census, as working in the Welsh mines, and these miners are not known previous experience of mining in Cornwall or Devon. This appears to conflict with Philip PAYTON's comment that many Cornish miners found work in the coal mines of South Wales. The possible explanation is that the MORCOM miners were mainly from the innovating Gwennap area and, therefore. more often self-motivated, skilled and semi-skilled men seeking to improve their prospects while avoiding dangerous and unhealthy underground mining. The South Wales censuses show 45 MORCOM/BEs who were engineers, engine workers or mechanics, often employed on the railways. Another 16 found work in the tin works of Swansea and Neath.
Some South Wales families
Over a dozen of my coded MORCOM/BE families had members in 19th century South Wales, and there were also many members of the smaller un-coded families. Accounts follow of five of the numerically most dominant families.
St ISSEYjohn GWENNAPjoseph1
This family, my own line, accounted for well over a third of all MORCOM/BEs and close relatives, recorded in my ONS database, who lived in South Wales. Joseph MORCOM (01319), b.1805 in Kea, was recruited in June 1846 by the Swansea Coal Company to work in their mines in the Morriston/Llangyfelach area on the north edge of Swansea. The Company was owned jointly by the Vivian and Son Company and William, Foster and Company, whose owners originated from Cornwall. Joseph was, presumably, employed because of his expertise in the maintenance of steam engines for pumping out mines. Although he was described as a "civil engineer" it is likely that he learned "on the job" rather than having any formal training. Surprisingly, Joseph and his 15 yr old son Elisha chose to travel to Swansea by land rather than sea, the coach journey on 25/26 June via Bristol (and presumably Gloucester), cost just over £1.50 for the couple, including a night's lodgings in Bristol. While waiting for the arrival of the rest of their family, Joseph and Elisha only spent £8 1s 8d on lodging, food etc in about ten weeks, and also sent a pound back to his wife Rosey in Rose Cottage, Carn Marth, Gwennap. Rosey (nee REED), and the other children Joseph, Elisha, John, Paul, Harriet and Mary did not arrive in Morriston until 5th September. The youngest child, Nicholas, was born in Llangyfelach in 1851.
Joseph seems to have prospered in Wales, being able to afford to travel in 1851, with his engineer son Matthew, for a week's stay to London. The primary reason for the holiday, which was made practical by the newly opened railway, was to view the Great Exhibition of the Works of Industry of all Nations in Hyde Park. They also, among other tourist sights, visited the Surrey Zoological Gardens where Joseph "saw many wild beast, but thought the amusement was sinfull". On Sunday Joseph attended serves of the reformed Methodists, Baptists, and the converted Jews
Another sign of prosperity was his large Cwmrhydyceirw house in 1861 which was named Rose Villa, after his still owned small Rose Cottage on Carn Marth near Gwennap. The garden was large enough to be used by a recent occupant as a garden centre which included a substantial glass house.
Five sons and two daughters all married while in Morriston/Llangyfelach, the names of their spouses suggesting they were mainly Welsh. Four of the sons had 40 children between them, so the MORCOMs multiplied in the area, despite Matthew taking his family back to Cornwall and then to Barrow-in-Furness, and Elisha, settling with his second family of five in Aberystwyth. Apart from these departures, the family ties of the MORCOMs and their spouses kept the families in Swansea until about the 1900s, when some descendants moved to Neath and Briton Ferry. The MORCOM men found local employment, mainly as tin plate workers or engineers (often employed on the railways), but also as insurance agents. Apart from dressmaking at home, later in the 1800s some of the wives and daughters started to find work as shop assistants, teachers, librarians, and as keepers of a family boarding house.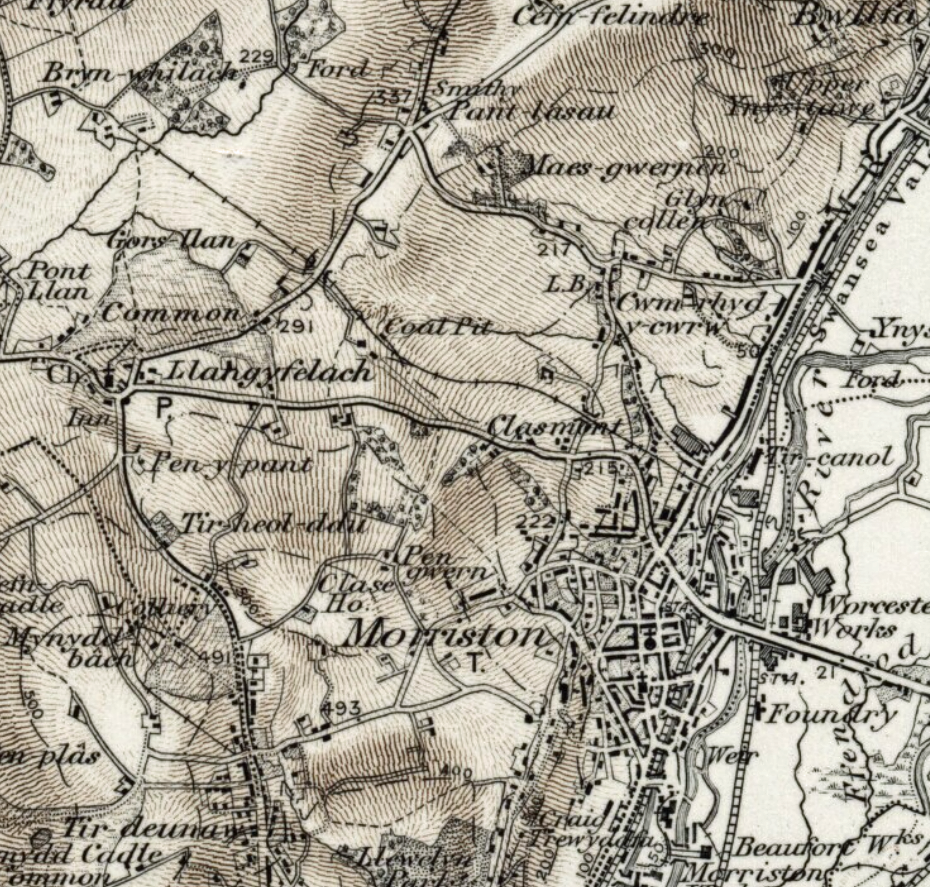 >Map of Morriston and Llangyfelach c.1897. Joseph MORCOM and his family lived mainly in Llangyfelach, Clase and Cwmrhydyceirw. The map covers an area approximately 5 miles x 5 miles. Reproduced with the permission of the "National Library of Scotland"
ILLOGANarthur St MARTINjoseph
Joseph Williams MORCOMB (01754), born in St Martin, Cornwall in 1787, moved to Neath between the birth of his youngest son, Edward, in Breage, in 1837 and the 1841 census which shows him accompanied by his wife Martha nee SPARROW and five sons and four daughters. There is possible evidence that the family were living on Poor Law relief in Cornwall. If correct, this may have motivated the move to South Wales. At that time the population of the ancient settlement of Neath was expanding rapidly with local coal mining, and iron, steel, and tinplate manufacture. Joseph, already in his mid-fifties, did not share in this prosperity, being employed as a miner, labourer and porter. His sons William and Samuel worked in coal mines and Benjamin was a servant. John was for many years a harbour pilot in nearby Aberavon. Joseph and Edward moved by 1851 to Saltney on Deeside, and worked in the local patent fuel manufacture, and then moved, by 1861, to the Llandaff Patent Fuel Works in Gabalfa, North Cardiff, where they were joined by Joseph Williams and son William. The numerous descendants of this family were the dominant MORCOM/BE representatives in the city for the next few decades, and account for over a quarter of the MORCOM/BEs and close relations who I have recorded in Glamorgan and Monmouthshire. Joseph William's grandson, William (01781) b.1839, had changed his name to MARCOMBE by the 1881 census and most of his large family followed his lead - to confuse future genealogists!
HIGHAMPTONjohn
John MORCOMBE (01312), also from Shebbear, Devon, arrived in Neath c.1872. He married there and seven children were born in the town. Two sons died in Neath as late as 1951 and 1953. John, three sons and a grandson worked on the railways. John's younger brother Isaac (01309) had followed him to Neath by 1876, but having only found work as a general labourer, emigrated with his family to Ohio in 1888.
DUNSTERthomas.
This MORKHAM family can be traced back to as early as 1670 in the small market town of Dunster in Somerset. In 1851 Johm MORKHAM (11129), age 22, arrived in Melbourne and settled in nearby GEELONG with his wife, son, brother and sister. It was very rare for families who emigrated to Australia in the nineteenth century to return to live in England, but in 1856, John left his newly married sister in Geelong, and returned to England with his son John, and two daughters. They lived in Dunster and then in Devon, but by 1872 they had settled in Newport, Monmouthshire. John jnr. had died aged 14, but the family now included nine daughters. The choice of Newport may have been influenced by the move of several Dunster families to the nearby coal mines. John himself was a sadler and harness maker, and the family home was probably like a clothing factory, seven of the sisters being described as dressmakers or milliners in the 1881 to 1901 censuses. Apart from a few dressmakers (usually at home) and teachers, the 1851 to 1921 censuses show that very few wives and daughters in other MORCOM/BE families found employment in Glamorgan and Monmouthshire.
St GERMANSjohn St GERMANSdaniel
Daniel Harson MORCOMBE (02730) left Devonport in 1832 with his wife Mary and two eldest sons. He was a joiner, who may have been employed in the Royal Dockyards in Devonport. This could explain why he moved in c.1823 to the expanding town of Pembroke Docks where a new Royal Dockyard had been established in 1811. Most of his family of seven sons and a daughter were born in the town. Four of the MORCOMBE men worked in the dock yards, but most of the family was employed in the family drapery shop, and there were also three teachers. A few individuals from five other MORCOM/BE families lived in Pembroke Dock and neighbouring Pembroke market town during the 1900s.
North Cardiganshire
In North Cardiganshire there are many remnants of past mining for lead, silver and zinc. These include barrack ruins, chimneys, huts for explosives, unprotected shafts, tunnel entrances, and great piles of rock waste. The Rheidol and the Ystwyth are still among the most polluted rivers in Britain. It has been estimated that there are 30 miles of underground passages in the Cwmystwyth distict alone.
Mining in Cardiganshire goes back to Roman times, but by the late 18th century the industry was suffering from foreign competition. The mid-nineteenth century revival of mining owed a great deal to Cornish incomers as mine owners, captains, engineers and labourers. Conditions for the labourers were very poor. As they were usually living in areas, which were at that time remote, they slept during the week in squalid barracks. The conditions underground were even worse, since they worked by candlelight, often in oxygen starved conditions, with vile smells due to the lack of toilet facilities, and the frequent threat of flooding
The prominent WILLIAMS family of Scorrier House, near Gwennap, brought in Cornish mine captains and miners to work their mines, but lost money on the venture because the price of pig lead fell by more than half in 1825. The most successful mine manager in Cardiganshire during this period was John TAYLOR, a Cornishman, who came initially to Wales in 1822 to manage the mines owned by the Duke of Westminster in Flintshire. Having proved his efficiency in that county, he went on, in 1834, to organize the mines held by Lord Lisburne in Cardiganshire. The Cardiganshire County History judges that TAYLOR ""probably did more for the industry in Cardiganshire than any other man". TAYLOR and his sons were reported to have treated their workers far better than was usual at the time.
By the 1851 census there were 343 Cornishmen recorded in North Cardiganshire, many of them accompanied by wives and children. In 1871, the number of men who named Cornwall as their birth county had increased to 523. The expertise developed, in Cornwall, in the use of steam engines in deep hard rock mining was particularly valued.There was a sufficiently large Cornish community for them to build Wesleyan Methodist chapels, bring in their own lawyer to settle mining disputes, and even employ a Cornish teacher to teach their children in English, the language of instruction in local schools being largely Welsh. Many of the families returned to Cornwall after the mining slump of 1880s.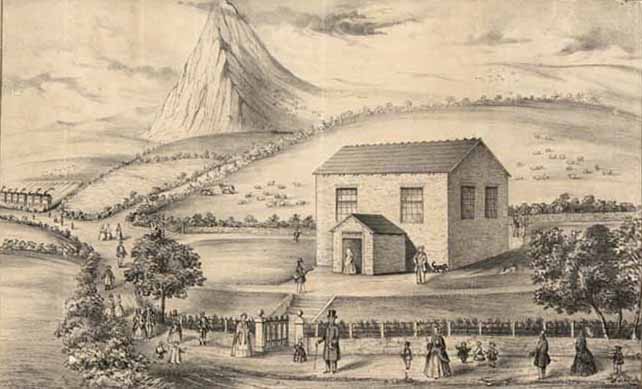 Wesleyan English Methodist Chapel built in 1852 by Cornish miners at Lisburne Mines Cardiganshire. The mountain behind seems to have strayed from the Alps!
An unidentified John MORCOM was born in one of the Cardiganshire mining parishes as early as c.1806 to be followed between 1840 and 1860 by four highly skilled MORCOM miners who were descendants of Joseph MORCOM (02187), son of the Joseph MORCOM (02612) who, I believe, is the miner in John OPIE's portrait of "A Gentleman and a Miner". Elisha MORCOM (16929) was working as a mine captain (possibly for Lord Lisburne) between the 1830s and his death in death in Llanafan in 1848. His younger brother James (02201), was living with William in 1841, and was supervising engineer for two lead mines. By 1846 he was superintendent of a silver mine in the Isle of Man, and later emigrated to Canada with his father. A nephew, George Frean MORCOM(02521), was born in Goginan in 1847, which suggests that his father Michael was then working in the county as a Plant Merchant selling mine machinery and, possibly gunpowder. It is likely that John TAYLOR was already acquainted with the MORCOM family from Whitehall. He had worked closely with Watt & Boulton (who had lived briefly next door to Joseph MORCOM in Whitehall) in installing their engines for Consolidated Mines, in Gwennap. Later TAYLOR built the Redruth and Chacewater railway.
My own family, descended from an uncle of the above Joseph MORCOM, moved to Swansea and, from there, one member Elisha MORCOM (01329), an assurance agent, moved to Aberystwyth in the 1880s. Unfortunately, I was not aware that four of his maiden daughters were still living in the town, when I was evacuated to a nearby family farm in 1940.
Families with several members in North Cardiganshire
St ISSEYjohn>
St ISSEYjohn GWENNAPrichard
Denbighshire and Flintshire
Mining for silver-lead at Minera has been recorded as early as 1296 and Cornish involvement began in 1745. Cornish expertise was even more welcome in the 1840s when Cornish pumping engines were introduced to deal with the problem of underground rivers deep in the limestone rocks which contained the lead veins. This led to a boom time for the lead mines until the 1870s when the price of lead fell and reserves began to dwindle. Accidents were common in the mines, and few miners lived beyond 40 because of silicosis caused by the drilling.
The two youngest sons of Captain Richard MORCOM of the Parys Mine, Anglesey, are a good example of the advantage in life of being born to a mine captain or engineer. Joseph Bickford MORCOM (01866) was a mine captain in Minera mine but died in 1880, at the age of 35, of appendicitis, a very painful end at that time, as there was no treatment available. His two eldest sons became an architect in Oakland, California, and a well know sculptor in Liverpool. Joseph's brother, John Cornelius MORCOM((01870) was a Manager for the Consolidated Lead Mining Co. in Minera in the early 1880's before emigrating to the States.
Anglesey
Parys and Mona, near Amlwch, had been the site of copper mining since the early Bronze Age. In the late 19th Century production increased until Anglesey was the main world producer of copper ore, causing the first of the price reductions which were to hit the Cornish mines. As deep shaft mining increased in the 19th century, Cornish miners like Gwennap born Captain Richard MORCOM (01713) were increasingly drawn to the area. Like a number of the Cornish miners who came to Wales in the mid-19th Century, Richard was a mine captain and an engineer who would probably have been experienced in the use of steam engines which had been introduced from Cornwall. He worked at the large Parys mine and died in Amlwch in 1860. He had possibly been recruited by James TREWEEK, also from Gwennap, who was mine manager at Parys between c.1810 and 1850. Richard MORCOM belonged to the family St ISSEYjohn GWENNAPrichard
There is an excellent article about Anglesey mining in "When Cornish Miners Came to Wales" by Lynne Mayers, published in the Cornish Family History Journal of June 2016.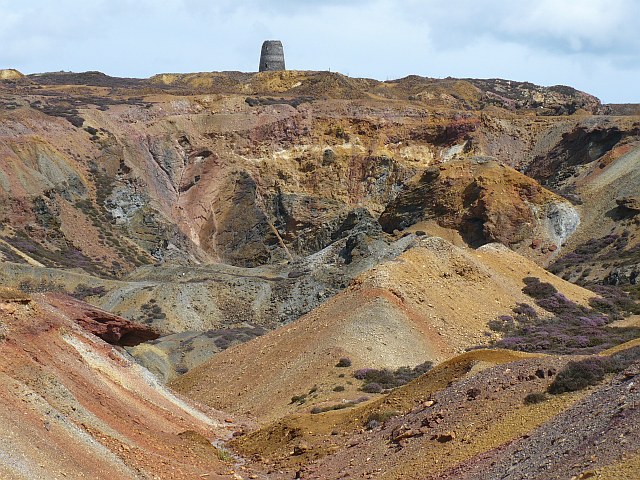 The Great Opencast, Parys Mountain Looking across the Great Opencast towards the ruined windmill on the summit of Parys Mountain. The opencast was opened up at an early stage of mining after the collapse of earlier under-ground workings. Most ore came, subsequently, from deeper mine adits. The mill, which had five sails, was opened in 1878 to pump water from the underlying mine workings. ©Robin Drayton
Durham and Northumberland
The expansion of the N E coalfield in the early industrial revolution depended on the employment of a large number of miners from other English minefields, and from Ireland. By the 1840s the miners were beginning to unionize in order to fight the low wages and poor mining conditions. During the 1844 strike, the mine owners employed Welsh and Cornish miners to break the strike.
During the 1865 strike Cornish miners were again recruited to defeat the strike. West Country miners, were self-employed and not unionized. This was particularly attractive to the NE coal owners. While, in hard rock areas such as Cardiganshire and North Wales, most of the MORCOMs who were recruited, were experienced captains and engineers, in the sedimentary coal seams of the NE, these skills were not valued, and the priority was to hire cheap coal hewing labour. On 5th December 1865 about 300 men arrived in Cramlington colliery, Northumberland from Cornwall, and on 28th December a further 128 men, 111 women and 248 children arrived. Their journey had taken three days, non-stop, by third class rail, the fare being loaned to the men and then deducted from their first pay packet. Many of the newcomers were housed in company houses from which strikers' families had been forcibly evicted, often with the assistance of the police. Even the workhouses were closed to those evicted, and shopkeepers, who gave credit to striking miners, were threatened by the mine owners with the loss of profitable business. Their contribution to breaking the strike was the cause of much bitterness and discrimination against the Cornish "black jacks" in the following years. Despite this, many of the West Country families seem to have settled permanently in the North-East.
The movement of West Country miners to the N.E. continued in the late 1860s and was concentrated in three collieries near Easington, Durham: Wingrave Grange, Murton and Seaham. As elsewhere, there was marked tendency for Cornish migration, to a particular mining area, to come mainly from a few families or parishes. In this case a majority of the MORCOM/BE migrants were from a single family in Calstock, Cornwall, on the Tamar border with Devon.
John MORCOMBE (10413), born in 1829 in Holne, Devon, had set sail, with his family, for Canada in 1855 on the barque "John". The ship was shipwrecked off the Cornish coast. John survived but his wife and four children were lost without trace. In 1856 he remarried and moved to Calstock, on the Tamar border with Cornwall, where a daughter and two sons were born. Before 1881 the family moved to Wingate, and then Murton near Easington, where most of the children and grandsons were coalface workers The move was possibly due to decreasing employment in the Calstock tin and copper mines. By 1911, his son John Thomas MORCOMBE (08604), was living in a four room house in Murton with an earlier widowed wife and ten children and step children, aged six to eighteen. John Thomas was a leading member of the Murton Colliery brass band, to which his three sons and three stepsons also belonged. In addition he was, for a time, the leader of the local Salvation Army band, and winner of many gold medals as a horn player. He had absorbed the local union culture, and became a local miner's leader. Apart from this dominant MEETHwilliam ASHBURTONjohn family, other MORCOM/BE families from Cornwall, Calstock, Yorkshire and Barrow-in-Furnace had a few members working in the NE coalfield well into the 20th century.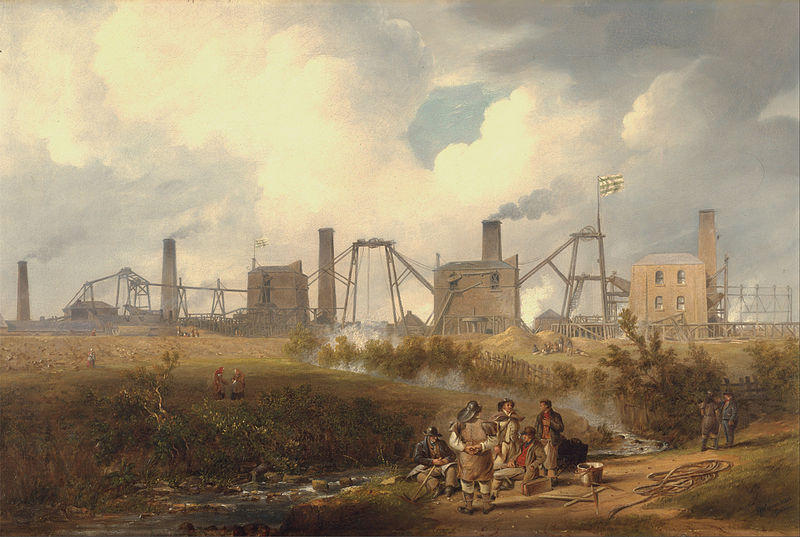 Murton Colliery near Seaham, County Durham painted in 1843 by John William CARMICHAEL. John MORCOMBE's family, including John Thomas MORCOMBE(08604), worked at this colliery.
Cumbria
The iron mining area around Barrow-in-Furness is on a peninsula between the Lake District and Morecambe Bay [which has nothing to do with the MOR[E]COMBEs!]. In 1870 the Barrow Haematite Steel Company was the biggest employer in the area, but it had to transport its coke from Durham and Yorkshire. When the company decided to drill locally, in the hope of finding coal, they found very little coal but instead discovered large resources of iron ore at Stank and Yarlside near Barrow, and also near Millom. As the rise of the Cumbrian iron ore mining coincided with the demise of Cornish copper mining, many of the workers were brought in from Cornwall. An additional factor in bringing in Cornish miners was that Henry Schneider, joint manager of the Barrow Haematite and Steel company, had previously managed a mine at Helston and had contacts in Cornwall. It has been estimated that, by 1901, half the mine workers in Millom were of Cornish descent.
There was insufficient housing in Barrow to cope with the influx of labour so, in 1873-1876, 196 terraced houses (most of which are still occupied) were built by the company at Roose, which was near Stank and Yarlside mines. The two blocks, across the street from each other, were named North Row and South Row.
As in the 2015 floods, heavy rainfall in the area caused repeated problems, and the mines were eventually abandoned in March 1901, due to the pumps not being able to cope
Most of the MORCOMs in the iron ore and associated industries in this area came from four families in the adjoining parishes of Gwennap, Kea and Perranworthal. I assume that this was because recruiting agents concentrated on this declining mining area. As in the NE coalfield, the emphasis was on manual labour, though there were a few engine men and engine drivers among the MORCOMs. William MORCOM (08510) was born in Gwennap in 1837 and arrived in Millom via South Wales before 1871. He soon moved, with his three sons and two daughters to the area around Barrow-in-Furness. When the mines closed in 1901, John (02540) emigrated to South Africa, and Thomas (08517) became a coal hewer in Pontypridd. Descendants, who stayed in the area after 1901,hhhh moved into different trades such as shipbuilding.
The largest MORCOM family in the NW was descended from Matthew MORCOM (01321), who was born in Gwennap c.1837, the eldest son of my ancestor Joseph MORCOM (01319). Matthew moved with his family to Swansea but, having become an engineer, went back to Cornwall and then, before 1881, arrived at 89 North Row, Roose with his three sons and four daughters. Matthew, and sons Joseph and John(15402), were engineers or engine drivers. The eldest son of Joseph, Reginald Matthew John MORCOM (01429) was one of many miners to die on the job as this report of his death at the Stank No 9 Iron Ore Pit relates: "Morcom, Reginald, 24 Sep 1892, 8:30 a.m., 3rd hour of shift, aged 19, Locomotive Stoker, Although provided with a coupling stick, he went under the buffers of some moving wagons to uncouple them, and when coming out again he was caught by the wheel of the following waggon". His two brothers moved into the local shipbuilding industry. John MORCOM (02536) a distant relation of this family and his two sons moved from Redruth before 1891 and became iron miners in Dalton in Furness. Yet again, John, the elder son had moved into the local shipyards by 1901.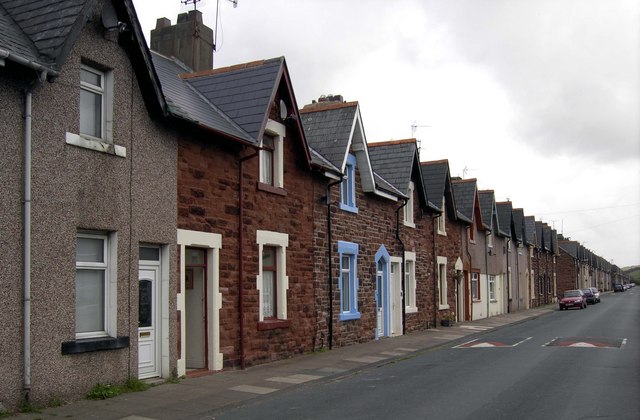 South Row, Roose. North Row and South Row were two long terraces facing each other across the road. Originally pairs of houses shared a common front door, but many cottages now have separate front doors. John MORCOM(15402) lived in 1891 at 89 North Row and in 1901 at 54 South Row. Photograph ©Colin KINNEAR
Families with several members in Cumbria
GWENNAPjohn PERRANWORTHALwilliam>
GWENNAPsarah
St ISSEYjohn GWENNAPjoseph1
St ISSEYjohn GWENNAPthomas
Other regions of the UK
I have recorded 620 MORCOM/BEs and close relatives living in Greater London since c.1800. The capital has always been a magnet for people from all parts of the UK, and along with South Wales, was the major destination for internal migrants from Cornwall and Devon during the 19th century. As a rough guide, if we count the number of MORCOMs (predominantly Cornish) compared with the number of MOR[E]COMBEs (mainly born in Devon) in our database, then we find that the latter are about one third in number of the former. This ratio is closely reflected in the case of migration to South Wales, but of those found in the London region, approximately half were MOR[E]COMBEs. The primary reason for this was the depressed level of agricultural wages in Devon c.1860. The workers were paid about half of the wages of their counterparts in the North of England, where those drawn to the range of alternative trades in the expanding urban areas and mines, created a continuing demand for rural trades. Rural wages in Devon, did not match national rates until c.1900, when the numbers who had migrated to home or overseas destinations created a shortage of farm labour.
One attraction, which London and also South Lancashire, Yorkshire and the Midlands offered, was a great variety of female employment opportunities. This was not the case in the West Country, Wales, the North East or Barrow. Few other generalization can be made about the sizeable West Country migration to South Lancashire, Yorkshire the and Midlands conurbation, because it consisted of many different families settling in scattered towns, and following very diverse trades, but rarely mining. There was low wage employment for many MORCOM/BE women in the cotton weaving industry of Bolton and other Lancashire towns. In the Midlands conurbation (mainly Staffordshire, Warwickshire and Worcestershire) there were six times as many MORCOMs as MOR[E]COMBEs. The skills, gained in the Cornish mines, were much more valued in the booming 19th century industries in the Midlands, and many of the male migrants were employed in relatively well paid engineering and similarly skilled technical work, a few rising to senior management roles.
How did internal and external migration affect the MORCOM & MORCOMBE populations of different parts of the UK between 1841 and 1911?

Notes on the above table
1. Variants have not been included in the table because it is often difficult to know whether a name is a variant of MORCOM or MORCOMBE, but it should be noted that their inclusion would have added appreciably to the total numbers in each census e.g in the 1881 census, Cornwall has a population of 321 MORCOMs and MORCOMBEs but, including all the variants, would raise the total to 408.
2. While the population of England, Wales and Scotland doubled between 1841 and 2011, there was only an approximately 40% increase in the numbers of both MORCOMs and the MORCOMBEs - the result of the diaspora. In 1841, MORCOMs were about one in 52,771 of names in the census, while by 1911 the proportion had dropped to one in 74,964. The surname MORCOMBE is approximately twice as rare as MORCOM, and saw a corresponding decline between 1841 and 1911 in the UK.
3. In 1841 there were only two MORCOMs across the Tamar in Devon but the numbers increased during the 19th Century as MORCOMs moved to mining areas in Devon, or to Plymouth. Movement to the rest of England and Wales had barely started in 1841 but, as mining declined, the numbers outside Cornwall & Devon increased steadily until, in 1911, over one third of MORCOMs were in the rest of England, and one seventh in Wales
4. In 1841 almost a third of MORCOMBEs were already living in UK areas outside Devon. This was partly because of the agricultural depression of the early 1800s causing internal as well as external migration. By 1911 less than a quarter of UK MORCOMBEs remained in Devon. The MORCOMBEs of Cornwall lived mainly in the eastern, more agricultural areas of the county, and probably saw a corresponding decline in numbers during the nineteenth century.
---
To the next section - Emigration
OR
Back to - Main menu