Some brief family histories
Writing these accounts is a long-term project, so I have only included two family summaries as examples. If I have photographs of these families they will be included with the family histories
ADELAIDEannie - The Descendants of Annie MORCOM (16494)
In pursuing my One Name Study of MORCOM (BE)s, my most frustrating brick wall for over ten years has been an unfortunate family who were in the Adelaide Destitute Asylum between 1872 and 1874. They were Annie MORCOM and her two illegitimate sons, James and Peter MORCOM.
It is unknown whether MORCOM was Annie's maiden name or, more likely, her partner's name which she adopted for herself and her children, so for convenience I refer to her as "Sad Annie". Annie died in the Destitute Asylum on 15 August 1874 from TB. No relatives were recorded and her age at death was given as 35, but this may have been an estimate. She had been noted in the Asylum records as English.
Many of the women in the Asylum were the mothers of illegitimate children, but some were accommodated because they were terminally ill and, therefore, not accepted by hospitals. They had often been left destitute because their partners had not returned from distant mining areas There were also many single women immigrants who had failed to find work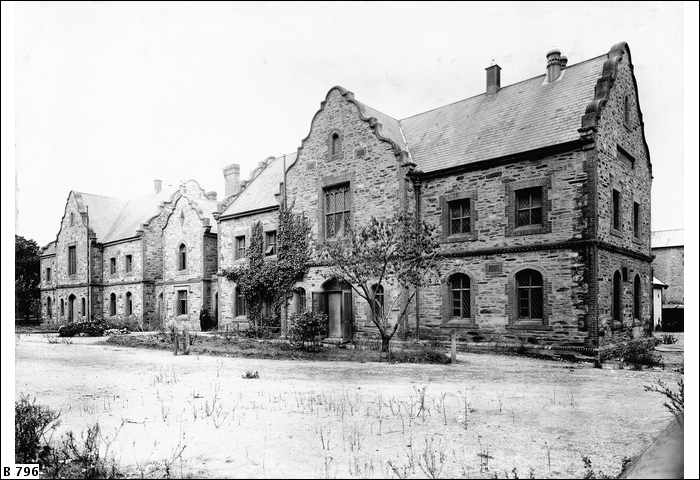 Adelaide Destitute Asylum where "Sad Annie" lived from c.1872 until her death in 1874
In 19th Century South Australia, there was more stigma attached to being poor than being mentally unstable. Susan PIDDOCK wrote that "The destitute …… were seen as bringing misfortune on themselves, there was not meant to be a underclass in a society developed by free settlers."
James MORCOM, born in about 1863, and Peter, born in 1866, are not recorded in the UK or Australian birth records, but are listed in the Asylum records as born in Australia. In the 1872 register of the Magill Industrial School (also known as the Boys Reformatory School) the brothers were described as "Illegitimate children of Annie MORCOM, who has surrendered them to the care of the Board".
By 1872, the Magill School was overflowing its capacity of 230 boys, and it became common for the Boarding Out Society to place children with couples who were paid 5s.0d a week for their keep. Lady Visitors monitored the suitability of these homes until the boys were 13 or, in some cases, 18. James was fortunate as he was boarded with the prosperous and well respected DUNN family of Woodside, and thought well enough of his foster parents to describe himself, on his marriage to Ellen CARTER in 1890, as "the adopted son of George DUNN, farmer, and Eliza DISHER". Between 1890 and 1904 James was mining in Broken Hill, Boulder and Kalgoorlie. In 1904 James & Ellen and their three children emigrated to Saskatchewan, Canada, and established a small farm on virgin land. Both James and Ellen understated their ages when they arrived in Canada. It was quite common for Cornish emigrants to be "rejuvenated" by the ocean journey! James died in 1928.
Peter MORCOM had a far less fortunate record of being placed out between 1873, when he was 7, and 1879. He was twice returned to the Magill School, initially because his prison keeper foster parent did not send him to school regularly and then again, in 1879, because of the illness of the miner he had been boarded with. At the age of twelve he was placed with a builder, William Luxford VIRGO of Georgetown, to be trained as a carpenter, and he stayed with the family for at least six years. He married Jane BOULTON on 24 October 1888 in Gulnare, SA. By 1897 the couple, with their two eldest children born in Broken Hill, were in the Transvaal, where Peter was a self employed prospector for gold.
Some Australian Cousin Jacks did emigrate to South Africa, after the discovery of gold in the Transvaal in 1886, but to move to Canada was much rarer. Canada had far less mining employment to offer MORCOM miners than the USA or South Africa, though a number of rural MORCOMBE families from Devon did establish farms in Canada. Were James and Peter MORCOM trying to put as much distance as possible between themselves and their unfortunate start in life in Adelaide? We do not know if they met again after the Magill Industrial School but their South African descendants have a photograph of two young men, who might be James and Peter taken in one of the Australian mining areas. I believe the Canadian and South African families had lost touch with each other before I re-united them.
The identity of Annie's partner, and father of the two boys, remains a mystery. We only have two clues. In his marriage certificate, Peter names his father as James MORCOM, but he may have used his brother's name, rather than admit to the in laws that he did not know his father's identity.
However there is another candidate who could have been Annie's partner. The only reason that I have to discuss William MORCOM is the considerable coincidence of William, James and Peter MORCOM being named among the 21 individuals listed in the Register of Admissions to the Destitute Asylum 1870-1873. (There are less than 5,000 MORCOMs in my One Name Study database). Maybe William was described as having "no relative in colony" because he and Annie were not married. An 1871 Asylum record tells us that William was 51, arrived in Victoria on the "Old Calcutta" c.1850 and had been in South Australia for only 12 months. This does not rule him out as father of James & Peter, because we do not know where Annie and her children were before 1872. He had been a cook in Adelaide and was described in September 1871 as resident in the Asylum but convalescent from hospital where he had been "for the last three months suffering from Phthisis [Tuberculosis] which was also Annie's illness], destitute, no relative in colony. Left 23 Nov 1871". I have over 700 William MORCOM(BE)s in my One Name Study database (a frequent trap for researchers submitting MORCOM(BE) trees to Ancestry.com !), so it is difficult to discover the origins of this stray William.
There were several MORCOMs named both James and William in or near Adelaide at the time. I am avoiding speculation here because I have already "backed the wrong horse" on several occasions!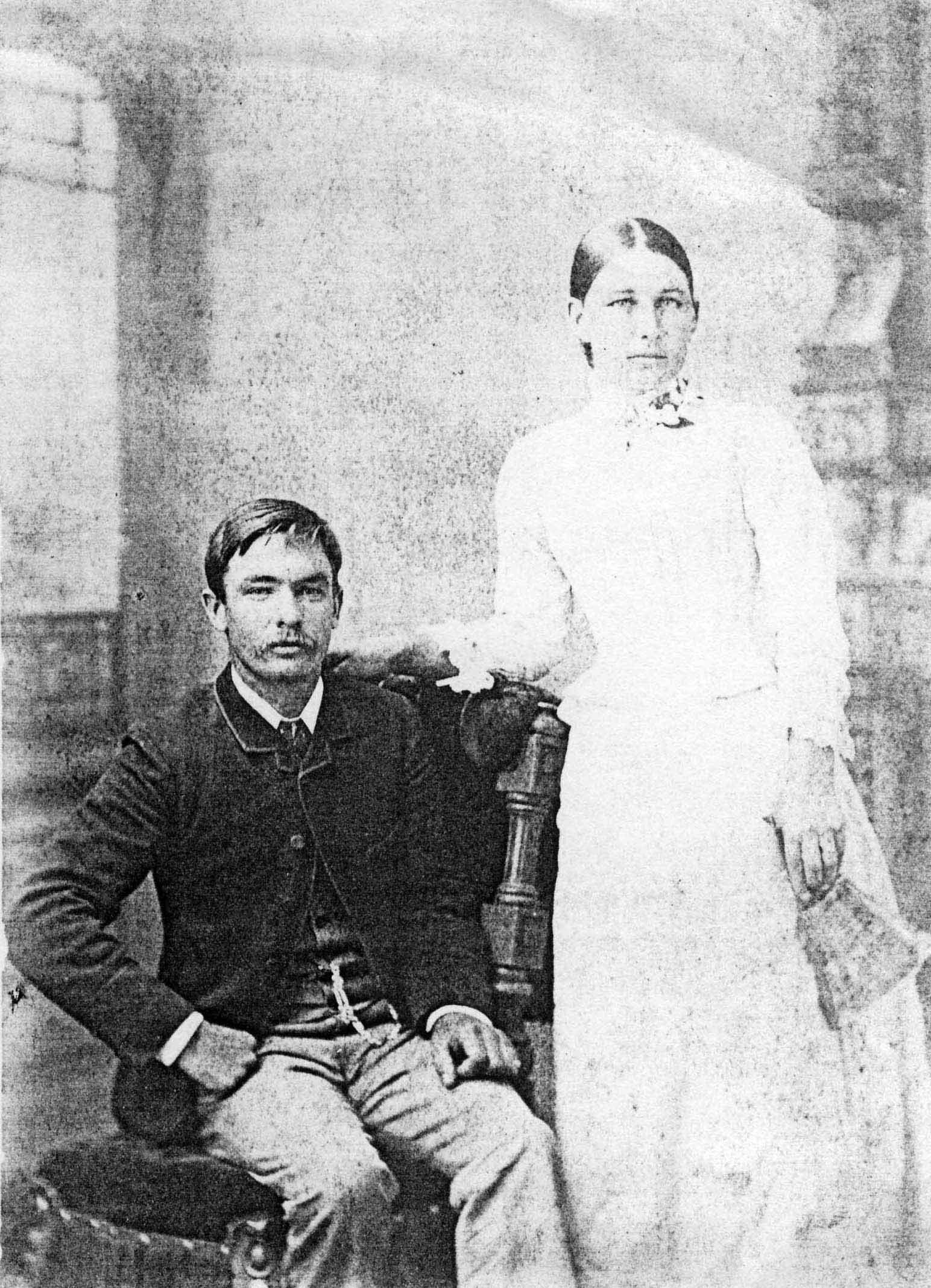 Peter and Jane nee BOULTON's wedding on 24 October 1888 in the Wesleyan Church, Gulnare, South Australia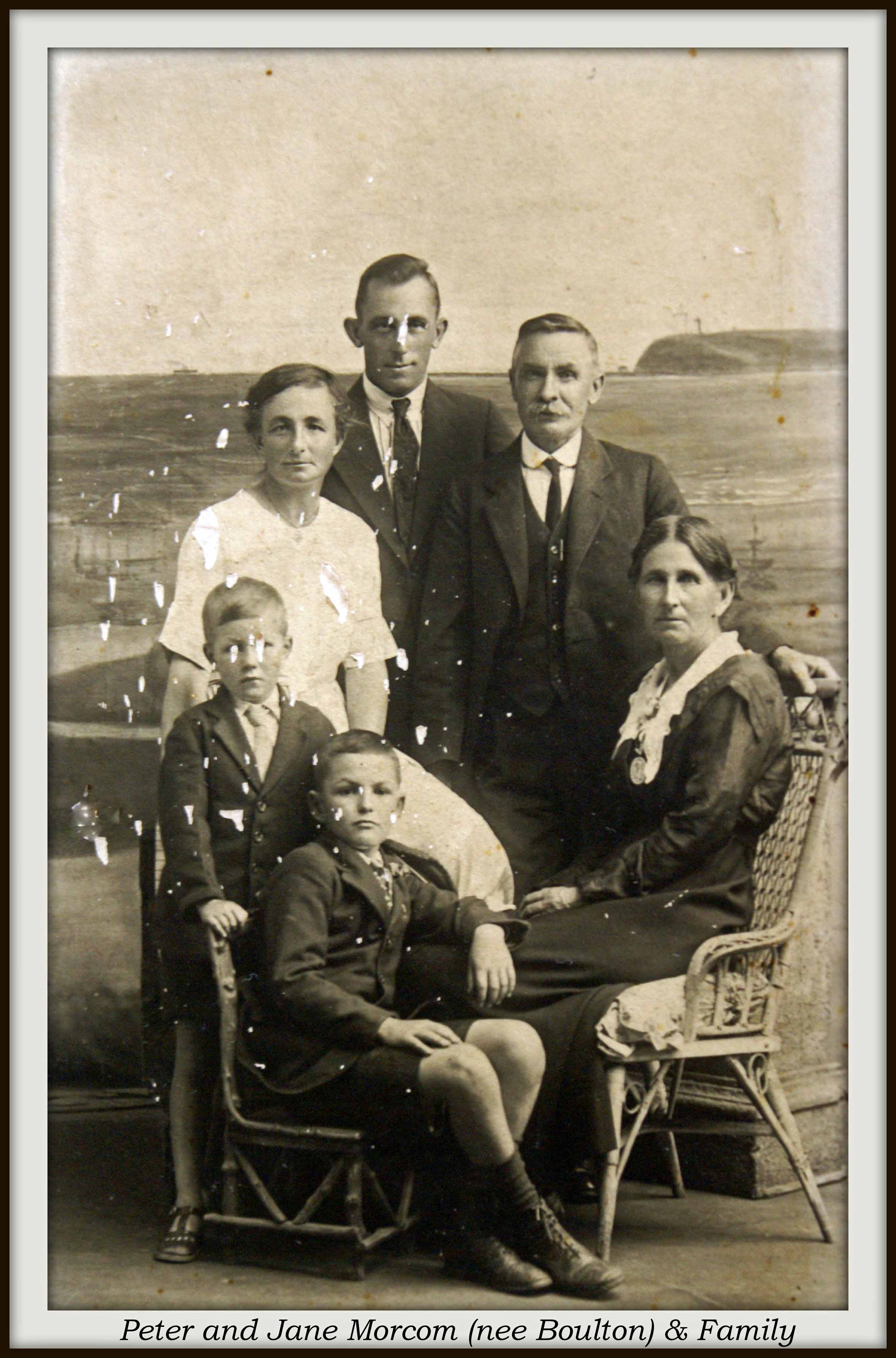 Peter & Jane MORCOM, c.1917, presumably in South Africa, with their daughter Evelyn Agnes PHILLIPS and her family.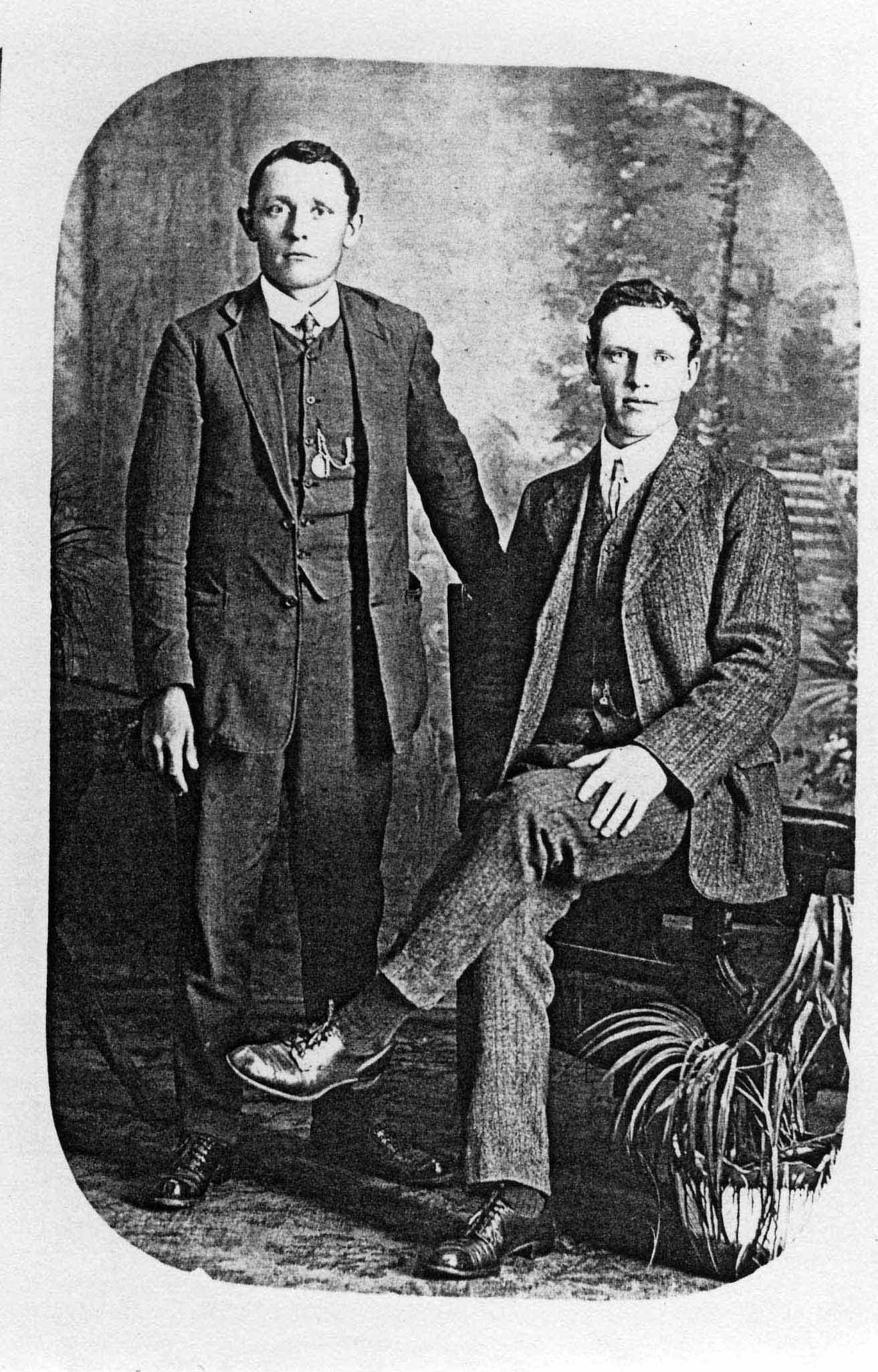 This photograph came from descendants of Peter MORCOM in South Africa. Are they Peter (on the left) and James?
DUNSTERthomas - The Descendants of Thomas MARKHAM (15479) and Sarah UNKNOWN (15480)
Dunster is a historic village near the Bristol Channel coast of Somerset which, in 2011, had a parish population of only 1811. It is built around the 200 ft high tor (rocky hill), crowned by Dunster Castle which was built shortly after the Norman Conquest of 1066. The Luttrell family were lords of the manor from the 14th to the late 20th century. The Castle, Priory Church, tithe barn, 16th century dovecot, yarn market and old houses make it a popular tourist destination. For most of its history Dunster prospered as the centre of wool and cloth manufacture and trade.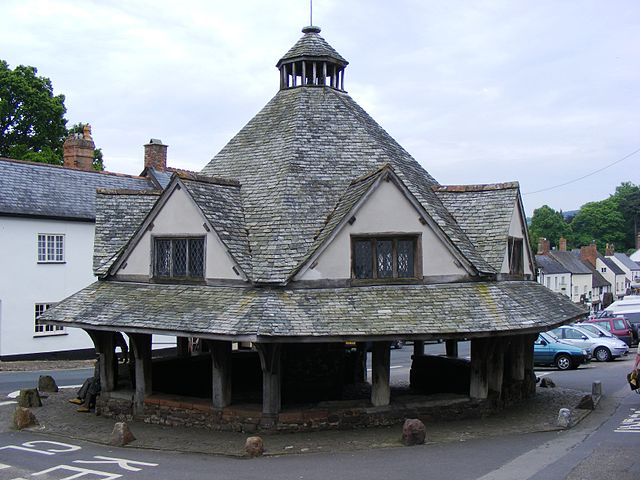 This fine 17th-C. timber-framed octagonal Yarn Market is a monument to Dunster's once-flourishing cloth trade.
Although there are a few other scattered MORCOM/BE strays in Somerset, the only family for which we have a record over many generations is DUNSTERthomas. Because of the incomplete parish records, the early history of the MARKHAMS in Dunster is unclear and the early generations in our database should be regarded as speculative. The one line we have been able to trace, probably starts with the marriage of Thomas MORKHAM and an unknown Sarah in 1698. Their probable son Thomas MARKHAM (1711-1773) was a cordwainer (shoemaker), and his grandson Thomas (15307), 1775-1845, was an "inn holder (publican) and tailor. They were five of the latter's children who left Dunster, probably as government assisted immigrants to establish a MORKHAM "colony" in Geelong, near Melbourne. William emigrated in 1849, followed by John, Henry and Margaret in 1851, and Thomas, the eldest son, in 1853. Thomas MORKHAM(21676) and his wife Elizabeth nee DAVIS, had left with three children. These emigrants and their families had very varied fortunes. The eldest child, Jane Elizabeth, married Benjamin BONNEY in Geelong and soon moved to the Victorian goldfields where twelve of their fourteen children were born between 1857 and 1874. The second daughter was a spinster.
Thomas broke with family tradition since 1700 or earlier, by naming his eldest son, who had died aged 2 in Bath, Henry John. However, he did name his fourth child Thomas Frank MORKHAM. Thomas Frank (11124), 1844-1922, was far more successful than any of his ancestors. His early profession was surveyor and architect in Geelong, but he became Secretary of Works in Melbourne, and later held the post of Secretary of Land, an influential role in the land boom years following the gold era in Victoria. Equally impressive is his long list of honorary posts. He travelled to England with the Australian cricket team in 1903 and was presented to Edward VII. He retired before 1909, with failing eyesight, on a then princely pension of £433 a year.
Henry MORKHAM, the second child of Thomas(15307), emigrated to Geelong in 1851, but returned to Dunster with his brother John in 1856. John decided to settle in Dunster and this may not have been a good decision, as he only found work in his home town as a labourer, and died in Williton workhouse. The third child, Margaret married in Geelong. William, the next child, and his family seem to have prospered in Geelong. Having started work in the family profession of boot and shoe maker in Dunster, he established a Golden Boot shop in Geelong. The business must have been quite profitable for William to visit England in 1874, and return with English and Belgian canaries to add to his collection. He retired in Melbourne.
William's eldest child, William Kenneth, had rather more questionable career. He was appointed Comtroller of Stamps for Victoria State, but in 1896 was found guilty of four of nine charges regarding his handling of sample foreign stamps received by his department. He had claimed that one of his sons had stolen the stamps. [Was this Eustace Valentine, aged fifteen , who died in the same year of a self-inflicted gunshot injury?] In 1897, aged 47, William Kenneth was allowed to retire on the grounds of ill health and was awarded a pension of £345 a year. He abandoned his wife Emily Sophia Goodrich and six children, and left in 1903 for England with Diana DENIS (or DENNIS). A son, Horace, was born at sea, and two daughters in England. I have not found a marriage for this couple, but in the 1911 census, they claimed to have been married for 14 years, but c.1897, William was still in Australia and married to Emily Goodrich who did not die until 1912. Diana died in 1911, her death certificate concluding that she died of "gastritis accelerated by alcoholism". However, The Kalgoorlie Western Argus carried the following report: "Mystery surrounds the death of Diana Morkham, the wife of William K. Morkham, a former Australian civil servant, now living in Surrey. Deceased, who at one time; was a well-known professional singer, was a Spaniard, according to the husband, who told the coroner at the inquest that he thought she was suffering from pneumonia, but did not call in medical aid. She died within a week of falling ill. Deceased's son, who is 11 years old, however, stated that he saw his father walk behind his mother in the garden, and strike her on the back with a poker, causing her to fall. It appears that there were quarrels between the couple, and the police had on occasions been called in. As medical evidence could throw no light on the cause of death, the inquest has been adjourned, and investigations are being made."
The youngest son of Thomas MORKHAM (15307) returned to England, and his story is told here
---
To the next section - Origin of the surname
OR
Back to - Main menu