Social organisations - Methodism, Lodges and Unions
The social organisations which had the greatest influences on 19th century society in Cornwall were probably, non-conformism, primarily Methodism, and secondly the Friendly Societies. I have the impression that in the USA, the influence of Methodism was diluted by the other denominations surrounding the Cornish communities, while the lodges became a more cohesive (and sometimes exclusive) force. Trade Unionism never developed to any extent in 19th century Cornwall, but became more important overseas.
Methodism
The growth of Methodism in Cornwall and Devon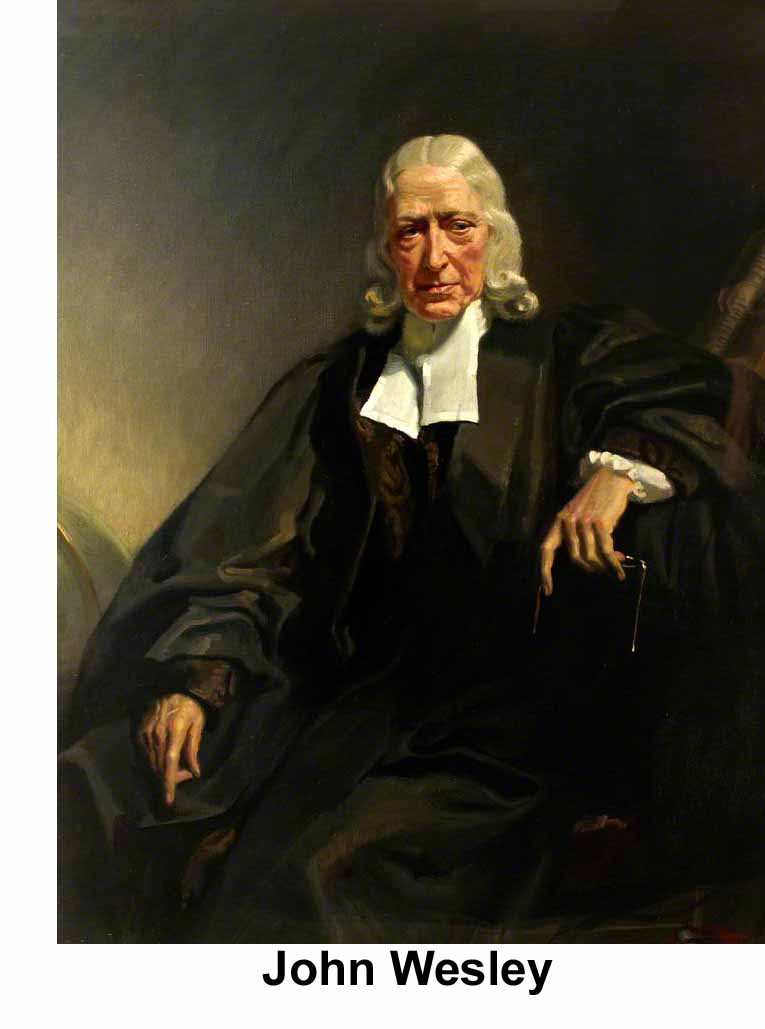 John WESLEY followed his brother Charles to Cornwall in 1743 and his message was immediately accepted, especially in the mining areas in the west of the county. Wesley, often accompanied by Charles, visited Cornwall 31 times. In Gwennap parish he preached in the open air in Carharrack until 1762 when, because of gale force winds, he was take to Gwennap Pit, a natural amphitheatre created by mining subsidence, where he preached 18 times in the following 27 years. His audience was often in the thousands. In his diaries he claims that he once spoke to 20,000 people at Gwennap. WESLEY often preached in barns and houses in the mining districts. This cottage religion may explain why the majority of early members were women. The WESLEYs still considered themselves members of the established church, the formal break with the Anglicans not coming until 1795.
The Wesleyan chapel in Carharrack was one of the earliest. By 1750 there were 30 societies in the mining communities in West Cornwall and another four in the NE. In 1851 the official Census of Religious Attendance recorded that in England and Wales the percentage of the population attending Anglican services was 29.5, for Devon 40.01, and for Cornwall only 19.2. For all nonconformist denomination the national average was 31.3, for Devon it was 30.4 and for Cornwall 48.7. By then the Vicar of Crowan was forced to concede that the Church of England had lost the people in Cornwall.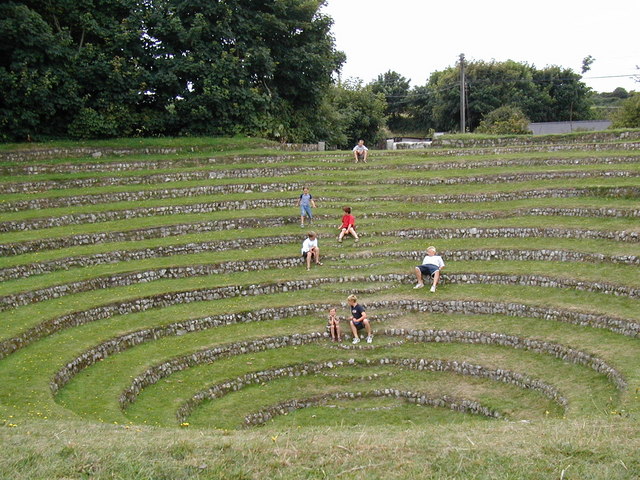 Gwennap Pit where John Wesley preached on 18 occasions. it was formed by the caving in of old mine workings. The terraces were constructed some years after Wesley's death. ©Roddy Urquhart.
After Wesley's death in 1791, there were a number of breakaway organisations from Wesley's Church, notably the Bible Christians in North Devon and N.E.Cornwall and the Primitive Methodists, a more fundamentalist and often radical movement, largely based in mining areas. From 1856 onwards, non-Wesleyans comprised over 40 per cent of all Methodist members in Cornwall. Other nonconformist faiths which were represented in Cornwall were the Independents and Congregationalists, Society of Friends and, to a lesser extent, the Baptists. By 1851 over 60 per cent of the churchgoers in Cornwall were nonconformists. By the end of the 19th century the small parish of Lanner, between Gwennap and Redruth had one parish church and seven chapels. The Wesleyans, Bible Christians, Primitive Methodists and United Methodists each had at least one place of worship. About 700 chapels survive in Cornwall today, over 80 percent of them having Methodist origins. Many were built relatively early and then rebuilt in the 19th century.
Many mine captains were Methodist preachers, and some might pressurise miners in their team to attend chapel. My own Primitive Methodist ancestor Joseph MORCOM(01319), then an engine man at Ting Tang mine, became a fervent Primitive Methodist. He joined Lanner Moor Primitive Methodist chapel in 1831 and later became Sunday School Superintendent at Carn Marth Primitive Methodist chapel. He preached regularly in Gwennap, and also travelled weekly 14 miles, in each direction by horse, from Carn Marth to Sithney, to supervise a Sunday School. When he moved in 1846 to Morriston near Swansea as a mine captain, Methodism was growing strongly in Wales and Morriston was no exception with the Independents, Calvinistic Methodists, Wesleyan Methodists and Baptists already strongly represented. Many of the Cornish incomers were Primitive Methodists or Bible Christians, but their services in English gained few new worshippers in a predominantly Welsh speaking community. Joseph, leader of the Primitive Methodist congregation, and founder of their local church, was so frustrated by preaching to three to ten people each week, that he wrote in his diary, rather unjustly, given the great success of most other sects: "My hart is sorrowful to think of the state of Morriston. There is much preaching but little good doing. May the lord have mercy on the wicked inhabitants of this place"
Less typical was Joseph Hodge MORCOM (15875), who in 1768 became the first minister of one of the few Baptist chapels, which was in Chacewater. He was married to a member of the HORNBLOWER family, important engineers from the Midlands, who lived at nearby Whitehall. There is evidence that this family introduced Baptist chapels into Cornwall. Incidentally, the family of Joseph MORCOM, portrayed in Opie's painting " A Gentleman and a Miner" lived next door to the HORNBLOWERS, but worshipped more conventionally at the Methodist chapel at Chacewater.
Why Did Methodism become the pre-dominant religion?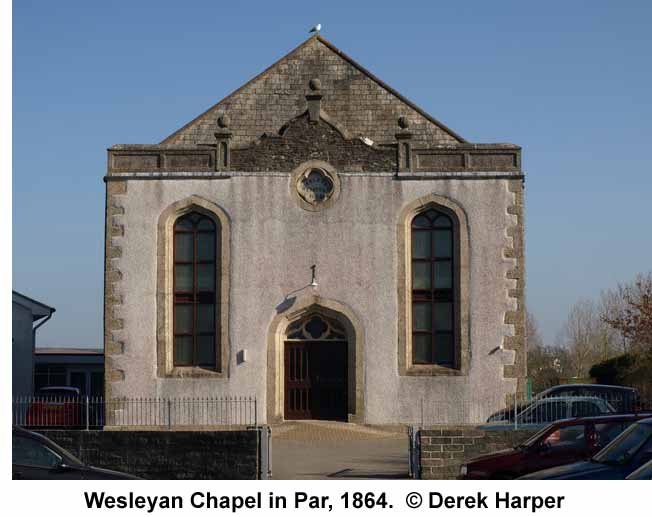 A number of theories have been put forward to explain why the various forms of Methodism were so readily accepted in the county. The suggestion I prefer combines the unpopularity of the Anglican Church with the social nature of the growing mining villages, which adapted easily to the Wesleyan faith and practices. In the late 1700s and early 1800s the Anglican Church in the West Country had lost touch with its congregations. The clergy often came from the landed gentry and many preferred to spend their time eating, drinking, hunting etc with relatives or other gentry rather than attending to their dwindling congregations. The new mining villages were often a distance from the parish church. In Gwennap, for example, the parish church was two miles from the largest settlement Carharrack, where a Wesleyan chapel had been recently built. Wesley's message was fairly simple, promising redemption to the faithful. Local preachers came from the mining communities and spoke in the local dialect. Methodist organisations, unlike the Anglican dioceses, grew from the bottom up. Although the membership was predominantly working class, the leadership came mainly from the emerging middle class of mine captains, small farmers, shop keepers and assorted tradesmen. This dynamic and more democratic faith was well suited to the entrepreneurial context of the industrial revolution, but its simple message could also accommodate more ancient forms of belief - charms, superstitions, ghosts and the devil.
However this theory fails to explain why Methodism was almost as strong in 19th century West Devon, where mining was a smaller part of the economy, and most rural communities were still centred on a not too distant church town. Was disillusionment with the Established Church sufficient catalyst for change in rural Devon? it is also noticeable that Methodism was strongest in Devon in parishes nearer the Cornish border.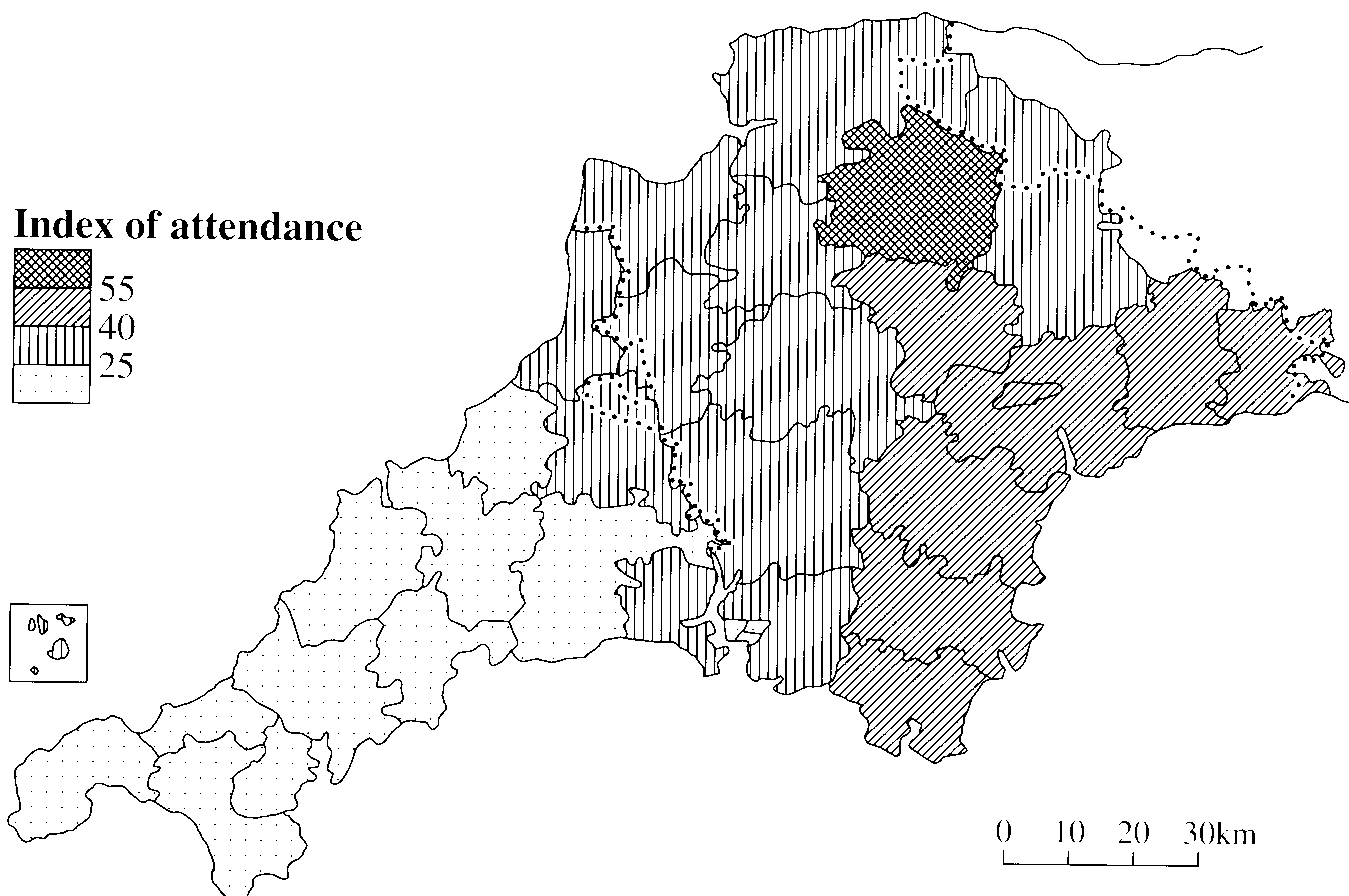 Index of attendance: Anglican. From the Census of Religious Worship 1851.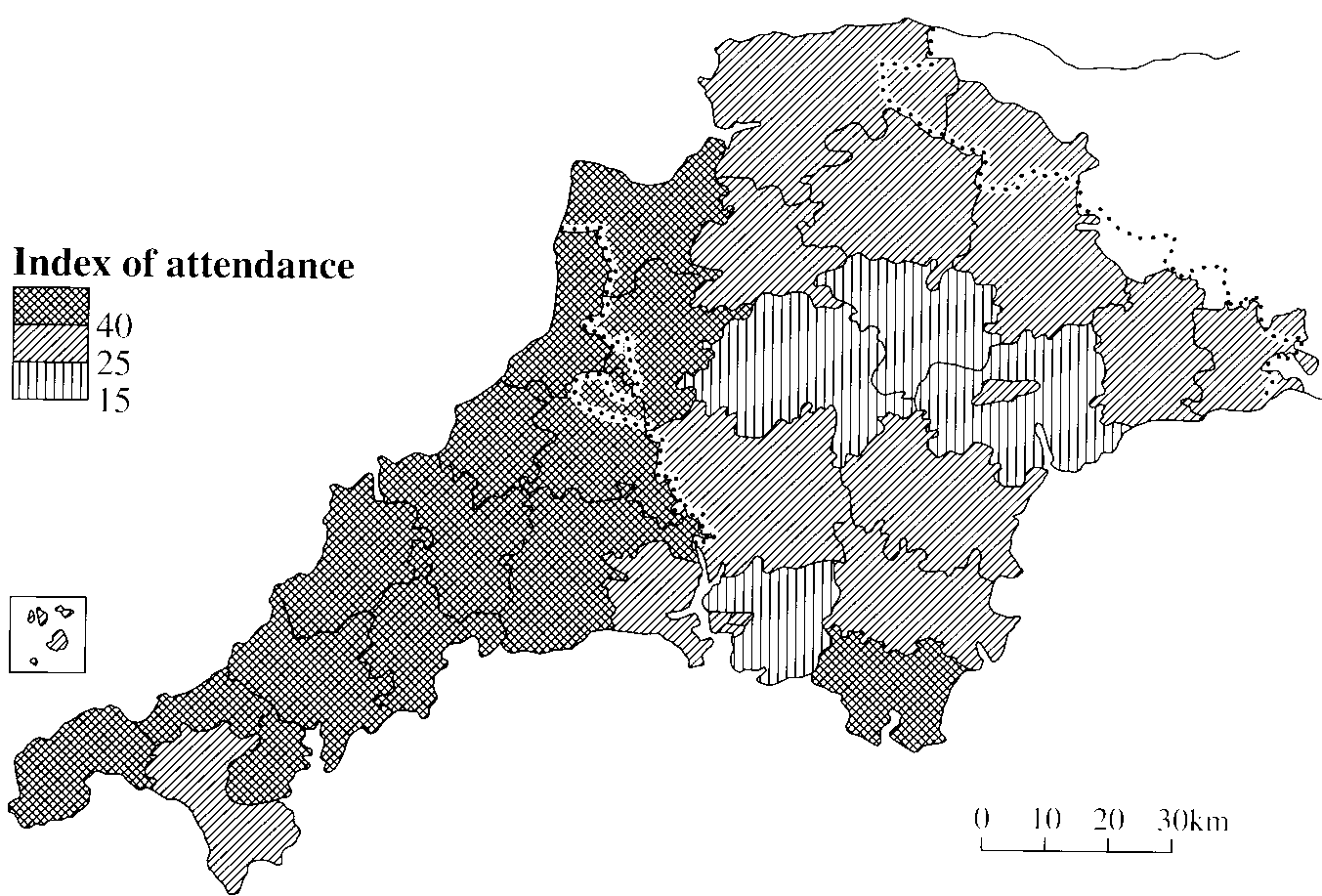 Index of attendance: Non-Anglican (mainly Methodist). From the Census of Religious Worship 1851.
Both maps from the "Historical Atlas of South West England" edited by Roger KAIN and William RAVENHILL. Published by the University of Exeter Press. Maps © Helen JONES
Did Methodism have both a social and psychological influence?
The non-conformist chapels certainly had a considerable social influence, filling many of the few leisure hours of mining families with services, Sunday schools, prayer meetings, choral singing, bazaars etc. They also often provided welfare support and basic education. The Bible Christians' insistence on literacy was especially important. In addition, Methodism contributed to the decline of such local pursuits as wrestling, wrecking and smuggling.
Several of the most informed writers on the Cornish mining communities consider that Methodism had a considerable influence in moulding the Cornish character. Sharron SCHWARZ and Roger PARKER, in their outstanding study "Lanner: A Cornish Mining Parish", judged that Methodism can be viewed as a bridge from the traditional to the modern world, promoting liberal, individualistic ideas along with a maintenance of recognized structures of continuity and tradition".
Interesting as these views are, they do not lend themselves to scientific or statistical confirmation or refutation. Alternatively, could it be a case of Methodism, was more attractive than the Anglican Church to the working classes of Cornwall and Devon, because it chimed with pre-existing customs and social attitudes. How far was the "liberal, individualistic" outlook, due more to what A.C.TODD refers to as a society where there were "no great families as in the English sense ... differences between social groups were never as clearly marked as elsewhere. Note the confidence, in Opie's painting, with which the mine captain was addressing the rich gentleman, mine owner. In the mining areas the tribute and tut systems bred independent and individualistic men. This was also true of the organization of the important fishing industry, not mentioned elsewhere in this website, as I have only found two MORCOM/Bes employed in the industry.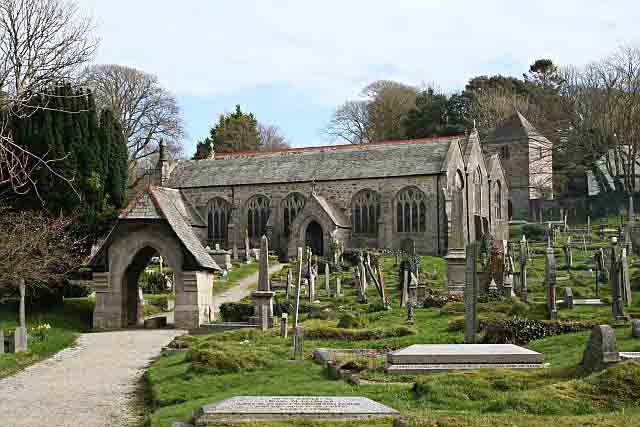 Gwennap Parish Church. A number of MORCOMs are buried in the church yard. ©Tony Atkin
Methodism in the Cornish Diaspora
Wherever there were strong Devon or Cornish communities in Canada, the USA and Australia, a non-conformist chapel was soon built which was seen as a signalling the distinct cultural identity of the migrants. As the Cornish miners were often the leading members of mining communities, they were not afraid to flaunt their uniqueness. Devon farmers also established non-conformist chapels. George MORCOMBE (04716) and Jabez Joshua Searle MORCOM, founders of the two largest rural MORCOM/BE families in Australia, established Bible Christian chapels soon after their arrival. Later immigrants were encouraged to migrate because they knew they would find the familiar and supportive Methodist chapels and fraternal lodges in Cornish communities overseas. The chapels, both in Cornwall and overseas, were probably as important as the lodges for the exchange of information and for wider social interaction, but they lacked the secrecy of the lodges for conducting financial deals and obtaining employment.
This enthusiastic revivalist religion was not always a bar to more worldly entertainment in mining towns. A.L ROWSE relates that "There is an authentic story of a miner, after the end of his week's work....going into Hancock [Michigan] to shack up with a well known woman of the town. Meeting with a fellow miner, his mate asked him what he was up to and, being told, noticed that he was equipped with a Bible under his arm. What was that for? 'Well, you see, if she be as good as they say, I may stop awver Sunday' "
Freemasonry and benevolent associations
This section draws mainly on two detailed articles by Roger BURT of Exeter University:
"The Role of Fraternal Organisation in Migration and Informal Labour Organisations in Mining Communities: Cornwall, the Keweenaw, and California Compared"
"Freemasonry and Business Networking During the Victorian Period"
The role of fraternal societies in Cornwall
It is not profitable for this discussion to distinguish between different fraternal orders - there were about twenty five operating in the Keweenaw Copper district of Michigan alone in the late 19th century. A useful distinction can, however, be made between the freemasons and the benevolent associations, including the Oddfellows and Ancient Order of Foresters. The associations largely functioned as insurance organisations, protecting workers and their families against unemployment, accident and death. They did not have the wider socio-economic impact of the lodges. Although the lodges sometimes gave charitable aid to members (like the chapels), it was not their primary purpose. Many freemasons also joined the Oddfellows or Foresters for financial protection.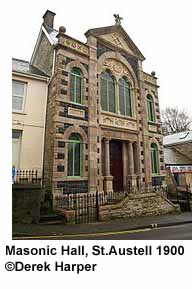 Membership of fraternal lodges was by invitation. Entrance fees generally discouraged the most poorly paid miners, and women were barred from joining, but welcome at some lodge activities. We do not need to discuss masonic rituals, but should note that members were sworn to strict codes of moral conduct, and were obliged to help other Masons, where this did not conflict with their own interests. Although most lodges would claim to embrace Christianity, and reflect it's moral values, many church and chapel members considered freemasonry rites to be incompatible with the Christian faith and even a rival religion. Catholics were told not to join by their Church. However, many Cornish men found no conflict in belonging to both lodge and chapel. Critics have always claimed that freemasonry is primarily about networking and self interest but, because of the strict rules of secrecy, there is meagre evidence to support or dismiss this charge.
However, if we review the background of members, it would be very strange, given their obligation to help other members, if networking was not one of the major activities within a lodge. A lodge in a Cornish mining district, like the chapels, would typically encompass almost the full range of economic activity in the locality. There might be as many skilled miners as mine agents, captains and engineers; and there would be other trades serving the mines e.g. assayers, carpenters and smiths. Yet others would depend on the prosperity of the dominant local industry for their income e.g. shopkeepers, accountants and publicans. The minority described simply as "Gentleman" in the membership records might include clergymen, but they could also be mine owners or investors. Relatively few farmers joined a lodge.
It would be surprising, if after the formal part of a meeting, when members were dining or following other lodge activities, discussion did not turn to matters of mutual financial interest. The social mix was important. Skilled miners could hope to meet a mine captain who might employ them. If industrial action was threatening, strikes could sometimes be prevented by informal negotiations between miners and several members who belonged to the local mine's management team. Arrangements, agreed within a lodge, were less likely to be broken than if made elsewhere. The local networks made possible, by such varied lodge membership resulted in far better information being exchanged than was possible for London investors to access. Miners returning from abroad, who were fully initiated Master Masons, were able to attend any lodge, and must have been a source of considerable intelligence about conditions in overseas mining. Although there is little evidence to prove networking occurred, the lodges certainly provided abundant opportunities for lodge members to negotiate deals. "Brother Jack" in Cornwall must have been as vital as "Cousin Jack" abroad, for gaining employment and commercial advantage.
Lodges in Cornish communities overseas
Lodges were probably an even more vital part of local life in most Cornish communities overseas than they were in Cornwall, though they were not usually exclusively Cornish. All regions with a large Cornish mining population would have a number of lodges e.g.the Keweenaw copper area of Michigan, the Rand gold fields of South Africa, and the Bendigo/Ballarat gold field of Victoria. Throughout the 19th century Cornish managers and mine captains dominated the industry in these and other deep mining areas. A miner, new to a region, would make valuable contacts, when he showed his Certificate of Membership to a local lodge. He might also be given cash for food and accommodation until he found work, or a ticket on to the next town, if he could not be offered employment locally. They might also be buried, at the lodge's expense, if they died. Quite a number of miners joined their local lodge, shortly before leaving for America or Australia, in anticipation of assistance when they arrived. Significantly, some returning miners also joined before they went abroad again.
In remoter communities, where winters might be very harsh, there were few leisure activities other than the nearest saloon or brothel. In these circumstances, the lodge could offer the miner and his family a range of social and entertainment activity, that might be as important as the opportunity for financially advantageous networking. The lodges were therefore strongly supported by wives and chapel leaders. The lodges in the 19th century, especially in the States, were quite radical organisations. By the end of the century they were becoming more establishment orientated.
Some MORCOM/BE freemasons
A link is provided below to the MORCOM/BEs listed in the database "United Grand Lodge of England Freemason membership registers, 1751-1921" on Ancestry.co.uk, There are 81 entries in the table entries, but the list often has about four or five entries for the same man, in different years and/or lodges. if you do not have a subscription to Ancestry, you will not be able to use the links for extra information on the right of the table
"MORCOM/BEs listed as Grand Lodge of England members"
This is a random sample of half a dozen entries found which have not been of them previously listed as masons in my database: William Robert Sandel MORCOM (03359), b.1882, baker of Margate; Augustus MORCOM(02203), b.1847, doctor of Dunstable; William Llewellyn MORCOM(02841), b.1844, cotton broker of Manchester; Nicholas Cornelius MORCOM(01858), b.1833, mining engineer, St Clement, Cornwall; George Gregor MORCOM(02641), b.1858, agricultural merchant, Liskeard, Cornwall; and William John Isaac MORCOM(05004), b.1865, member of a lodge in Redruth, previously Mine Manager in Pachuca, Mexico. There are very few listed in Redruth/Camborne/Gwennap, but this is almost certainly because the records were not available. Other more detailed accounts from my own database follow.
Joseph Edward MORCOMBE(00331), b. 1859 in Aberdare, Glamorgan, had one of the most outstanding careers recorded in my database. Freemasonry had a long history in the USA. It is often claimed that the country was founded as a Christian nation, but if we look at the list of founding fathers who were freemasons, it might be truer to say that the foundations of the USA were masonic. It was, therefore, quite an achievement for an immigrant, from fairly humble beginnings, to become one of the leading freemasons in the States. He had emigrated to Iowa before he was 21. His early career was as a printer and local journalist, who also wrote historical accounts of freemasonry organisations. The Washington Post of 8 September 1903 reported that "Joseph E MARCOMBE, assistant librarian of the Masonic library at Cedar Rapids, Iowa, and well known in that State as a correspondent and an editor of the "Masonic Bulletin....... had been employed as a press agent by Chekib Bey, the minister to the United States from the near Orient. Chekib Bey was acting in the name of the Sultan of Turkey. Joseph was to go via Constantinople to Macedonia to report to the world 'the true facts concerning the internecine struggle in which the world is taking a lively interest and receiving inaccurate or garbled accounts'. The Sultan was concerned about the previous reporting of the Armenian massacres and of the abduction of Miss STONE, an American missionary. Joseph was paid a year's salary in advance. By 1910 he was editor of of The American Freemason magazine and chief editor of the Masonic Publishing Company, and through these activities began to become nationally influential in Masonic circles. His authority grew when he became, from 1917 to 1940, editor of the Masonic World in San Francisco. At a masonic meeting in his honour, shortly before his 1942 death, he was described by a past Grand Master as "without doubt the premier writer of Masonry in the world today". The Grand Master also proclaimed that "if all the grand Lodges of the world should meet, it would be Joseph E. Morcombe who would be the outstanding Mason present." A second Past Grand Master declared that in the 25 years he had known him "the application of the principles of Masonry have changed materially and the man most responsible for these changes is Joe Morcombe."
Elisha MORCOM(00189), b.1835 in Kenwyn nr Gwennap, emigrated in 1854 to Michigan where copper mining was expanding. He became a mine captain in Michigan in 1865, because of "his great practical knowledge ... and his ability to contact men". After being mine captain and superintendent of two other mines in the state, he was entrusted to select his own team of men to travel to Soudan in Montana and open up the first iron ore mine in the Iron Range of that state. He had become a freemason in Michigan and was later active in state politics. One account about Elisha mentions that at least one Michigan lodge served out rough justice in the Cornish community: e.g. One man who regularly beat his wife was, after disregarding several warnings, himself beaten up in the middle of the night and left town the next morning. The lodge ensured that the wife had a job and was cared for.
William Elliott MORCOM(11050), b.1855 in Redruth, emigrated to Victoria in 1864, and became a mine manager in Bendigo. William joined The Independent Order of Odd Fellows in 1873 and was elected Grand Master in 1882. He had obviously prospered in his career as he was able, in 1870/1, to spend £10,500 on buying shares in local gold mines,
William John Isaac MORCOM(05004), b.1865 in St Day, Gwennap, had been an mine engineer in Minnesota, followed by five years in the Pachuca mines in Mexico. He then moved to South Africa in 1895, where he was engaged in gold mining in the Witwatersand and diamond mining at Kimberley. His final post was as chief engineer with the Central Manitoba gold mines This is a good example of how mobile a good mine engineer or captain could be. He was always interested in Freemasonry, holding membership in Craft, Mark, Royal Arch and other bodies. He was responsible for the organization of two lodges in S.Africa. He was elected and served for a number of years on the town council of Krugersdorp, a suburb of Johannesburg. He was also president of the Transvaal Cornish association. During the Boer War, William served as captain quartermaster. He died in 1939 in Manitoba, and the local masons conducted the last rites of their order at his graveside.
The trade unions
By the mid-1800s, unions were developing in many trades, and the coal miners of Durham and Northumberland were sufficiently organised to be able to challenge the coal owners with a series of strikes. It is significant that the owners decided that the best source of non-union men, to break the strike, were the copper and tin miners of Cornwall. The tribute system of payment in the Cornish mines, meant that many miners were independent sub-contractors who worked for a percentage of the ore that they produced. Unlike the common interests of coal miners, copper and tin workers were competing with each other. The other workers in the mines earned far less than the tributers and would have had difficulty in paying union fees. Moreover, by the late 19th century, it was becoming much easier for disaffected Cornish miners to seek better pay and living conditions abroad. If there was a move to start a union in a particular area, the mine owners quickly organised to crush the initiative, and ensured that the ring leaders would find it difficult to obtain work anywhere in the county. However, strikes did occur in the Cornish mines when pay was reduced or not paid. The Cornish miners never joined the National Union of Mine Workers, possibly because they regarded it as too dominated by the coal miners. However, by the 1930s, many had joined the Transport and General Workers Union.
In the USA, unions were more common in the mining areas, because of the need to organise to bargain with the large corporations which owned many of the mines. In addition, workers from some other countries were already accustomed to joining unions. Even when the work force was unionised, Cornish miners tended to remain suspicious of the local branch. The Cornish were used to mutual benefit and aid societies, and tended to regard any union they joined as having primarily a benevolent social role - or even acting mainly as a burial society. The union was seen as a fraternal society like the Sons of St George and the Independent Order of Good Templars. I can only recall one example of a MORCOM/BE becoming a union official, and that, surprisingly, was in County Durham, where the Cornish were usually regarded as "scabs" because they had originally been brought in to break strikes. John Thomas MORCOMBE (08604) was a leading member of the Murton Colliery Band, and, consequently, became sufficiently respected to become a leading union official, the size of whose funeral was remarked upon in the local press.
---
To the next section - The West Country mining industry
OR
Back to - Main menu