Mines in the early 20th century.
Both maps from the "Historical Atlas of South West England" edited by Roger KAIN and William RAVENHILL. Published by the University of Exeter Press. Maps © Helen JONES
Cornwall was one of the European regions which saw the most emigration during the mid and late 19th century, and one of the most distinctive in its characteristics, the "Cornish Diaspora" having consequences worldwide. There is an old saying "Wherever there's a hole in the ground, you'll find a Cousin Jack at the bottom of it, searching for metal". "Cousin Jack" is said to have originated from Cornish miners overseas being asked if there was anyone back home in Cornwall who their mine might recruit, replying that they had a cousin they could pursued to join them. There are still distinctively Cornish communities overseas, especially in the States and Australia. A.L Rowse wrote that "the story of the Cornish migration is the biggest and most significant Cornish theme". Even today, most "native" Cornish families will have memories, however vague, of relatives who departed overseas long since. Central to this story was the decline of the once prosperous mining industry. However, while miners were the most distinctive group of 19th century emigrants from Cornwall, a very diverse range of men and women from other occupations were probably more numerous. But the social effect of emigration was undoubtedly greatest in mining communities. Today there are over six million people of Cornish descent overseas.
In many ways it was fortunate for many Cornish miners that there was a symbiotic relationship between the decline of the Cornish copper and tin industry, and the growth of its overseas competitors. Unemployed or underpaid miners were likely to find better prospects if they were prepared to emigrate. The mass exodus of miners started as foreign competition from Lake Superior and Chile began to threaten many of the Cornish mining areas in the 1840/1850s. The need to mine increasingly deeper adits made Cornish mining areas even less competitive. The potato blight put extra pressure on families. The decline of the industry accelerated with the catastrophic crash of copper prices in 1866 (which led to c.11,400 lost jobs in mining within eighteen months), and peaked with the final decline of both copper and tin in the 1870s. Tin mining was struggling with the increasing competition from Malaysia, Australia and Bolivia. The Exodus was encouraged by the radical Methodist mood of 19th century Cornwall, where emigration was regarded by most as a means of self-improvement, socio-economic independence, and civic and religious liberty. There were others who regarded emigration, at least partly, as a means to escape the stifling constraints of Methodism.
Emigrants were, on average, more literate because they needed to be able to read about conditions and opportunities abroad, and how to access whatever financial help was available to assist in the voyage and in settling abroad.
The "pull" factors of emigration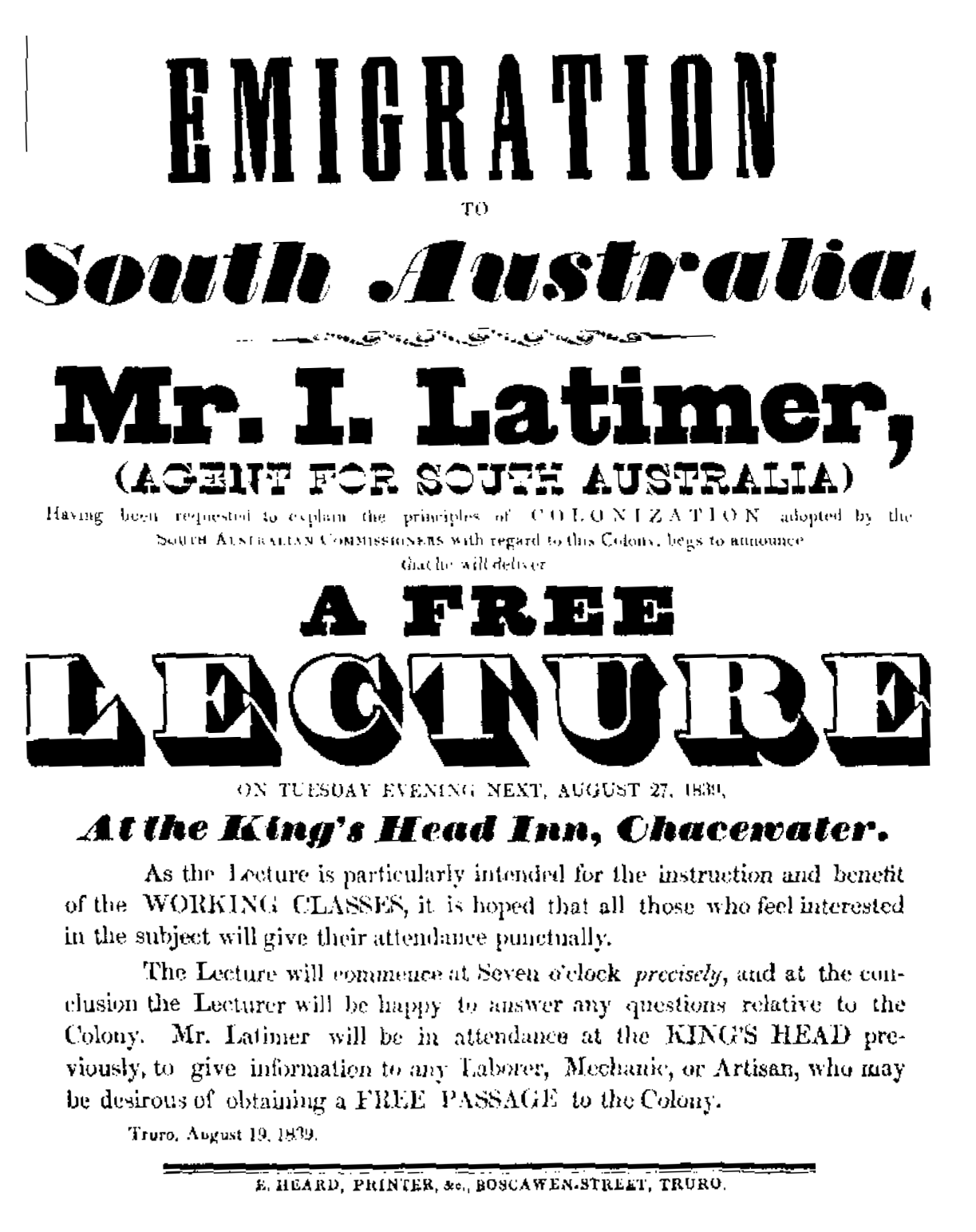 The availability of work
Miners had begun to leave, even between 1815 and the 1840s, while Cornish mining was still booming, as they were attracted by better job opportunities in emerging deep mining industries overseas. The modern industrial skills of Cornish miners were particularly valued in overseas mines. Miners were used to moving from one Cornish mining area to another as mines failed, and this, probably, made the idea of overseas and UK internal migration easier to contemplate. But during the early years of the 19th century there was also greater inward migration into many Cornwall and Devon mining communities. For example, between 1801 and 1841, the population of Gwennap increased from 4,594 to 10,794. This was partly because in Cornwall, in 1841, mining wages were on average one third higher than those of agricultural workers.
This early emigration was increasingly encouraged by a variety of agents, including governments, offering free or supported passages; recruiters for overseas mines; mine captains encouraging skilled miners to travel with them to open up new mines, supportive newspaper reports, chapel and masonic networks, etc. It is difficult to judge how far the decision to emigrate was influenced by the experiences of members of an individual's extended family or by neighbours, because the decision of members of a close community to leave might be due to a single recruiting agent, or to a local mine captain who wished to take a familiar and trusted team with him. The knowledge that a large proportion of the mine managers in North America were Cornish was also a factor encouraging emigration. Positive letters from abroad must have encouraged others to follow, especially if they were read aloud at public meetings, published in Cornish newspapers, or reproduced in in handbills and posters. For whatever reason, relative and friends often embarked together.
There must have been a large element of "Everybody else is leaving, then why shouldn't I?". But the Cornish migration story was repeated again and again overseas, as mines closed migrants had to move on repeatedly. In the States, this degree of mobility. combined with inaccurate census transcriptions, and patchy birth/marriage/death records, often makes it difficult to follow the movements of individuals, and even families, during the 19th century.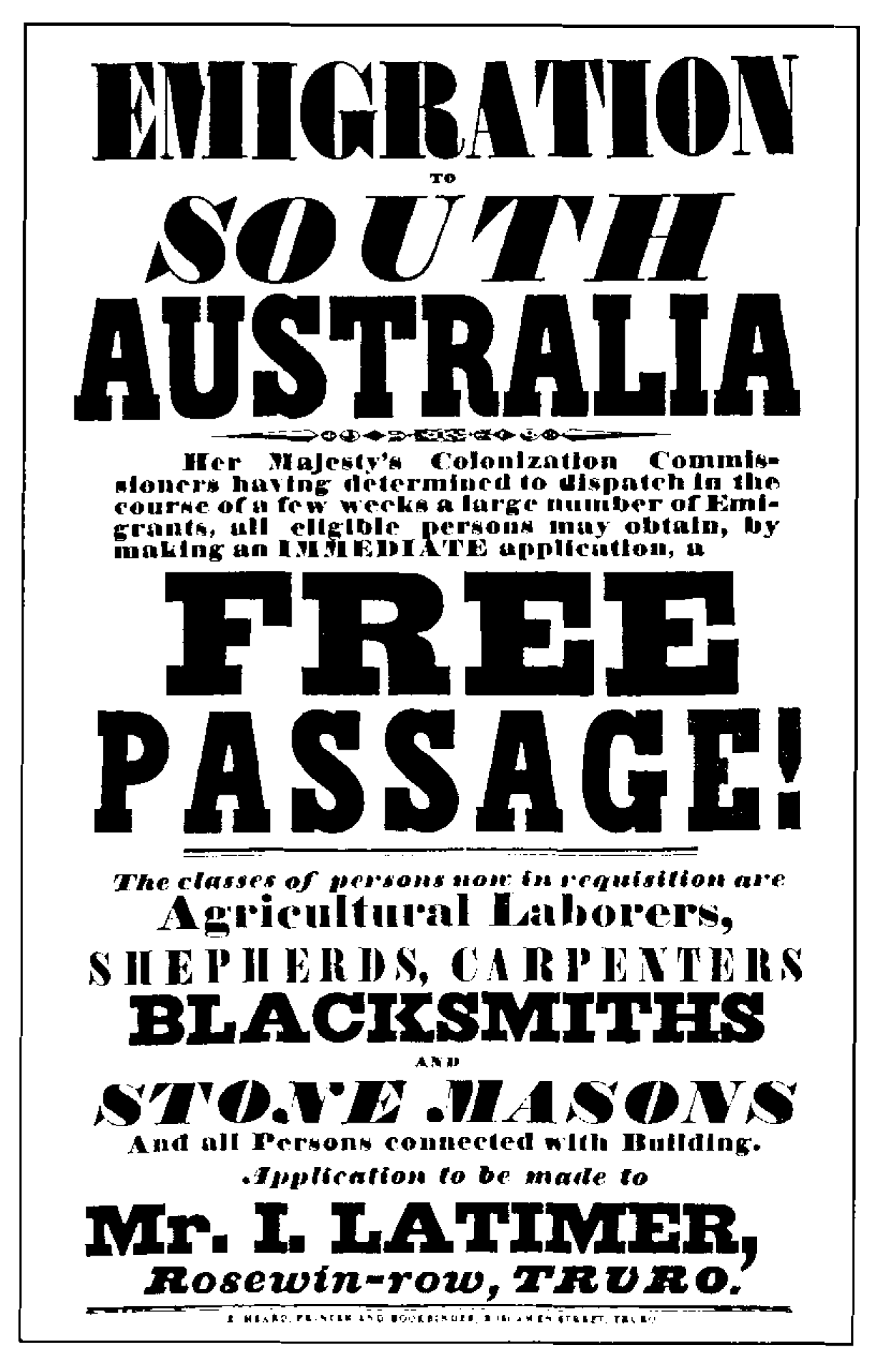 Assisted emigration
By the 1830s the UK Government, fearing that the country could not support a growing population, launched Government sponsored travel schemes to British possessions, while the colonial governments also offered free and assisted passages and land settlement offers. Migrants were often required to have some capital to exploit the virgin land before they could get land grants. The financial inducements often encouraged whole families to emigrate so as to maintain, as far as possible, a balance of ages and sexes in the new colonies. With the withdrawal of these financial incentives, and the faster journey times to North America and South Africa, there was an increasing tendency by the 1870s for young adult males to leave their families behind in Cornwall. They might go and return several times. There is a possibly apocryphal tale of a St Just girl being asked if she had ever visited Land's End, five miles away, and replying "Aw no..We St Just people don't travel much, only to South Africa". People in St Just also referred to North America as "the next parish".
The role of recruiting agents, mine managers and mine captains.
By the 1830s there was a recruiting agent, often a local shop keeper, in almost every Cornish town and in many Devon towns. They were able to advise potential emigrants about the location and tenure terms of available Crown land in Canada, Australia and New Zealand, and they also administered the "Assisted Passage" schemes. It was quite common for those applying for a grant to lie about their age and work experience to gain a passage. I have come across a number of MORCOMs, arriving in the USA, who appear to have been rejuvenated by the sea air.
The major mine owners and managers had mines in Cornwall, elsewhere in England and Wales, and abroad, and they often recruited for overseas ventures from their own Cornish labour force or from neighbouring mines. John TAYLOR, manager of Consolidated Mines in Gwennap sent men to Cardiganshire and Mexico. The WILLIAMS family of Scorrier, paid attractive wages to men who were prepared to go to Cuba, Brazil, Peru, Chile and Argentina. These mine owners usually appointed Cornish captains to their mines, who, in turn, preferred to recruit Cornish immigrants with their knowledge of newly developed mining technology. For example, Captain Samuel MORCOM(04735) arrived at Reedy Creek mine in South Australia c.1848 with 250 men.
From where did they go?
In the early 19th century emigrants mainly travelled on small freight vessels from minor West Country ports, Padstow and Falmouth remaining important transatlantic ports until as late as the 1840s. But as the numbers travelling multiplied, increasingly large passenger vessels met the demand. These ships could only depart from major ports such as Plymouth, London, Liverpool, Southampton and Bristol. By the 1860s the expanding national rail network made it easier for migrants to travel to these ports from the South West.
The social and economic consequences of emigration from Devon and Cornwall
By the end of the 19th century a "dependency culture" had developed in the former mining areas of Cornwall, a large proportion of the population depending on remittances from relatives abroad, and especially from South Africa where miners' wages were £30 to £40 a month, at a time when wages could be as low as two or three pounds in Cornwall. One researcher has estimated that by 1900 as much as a million pounds annually was being sent home from South Africa alone, to support wives, children and elderly parents. It has been calculated that, by 1891, 90% of the houses in Lanner village, near Gwennap, were supported by foreign money. Compared with other counties, comparatively few Cornish families went into work houses. This was partly because the Poor Law Commissioners preferred to provide passages for families to emigrate to Canada rather than accommodate them indefinitely in work houses. Miners in America also sent pre-paid passage money to enable their families to join them. These vouchers would not only pay for the transatlantic voyage, but for the more expensive journey inland to Michigan and beyond.
Some mining communities would have almost become deserted villages by 1900, if the women and children had emigrated to the same extent as the men. A resident of Lanner described her terrace of houses as being entirely occupied by women and children. The remittances were usually sufficient to ensure a reasonable standard of living, but families could be suddenly impoverished if payments were delayed, or their provider overseas was killed in the mines, died of tuberculosis or other diseases, or was even sometimes murdered, especially on the Rand in South Africa, the most frequent destination by the end of the 19th century. But the ill-fated Jameson Raid of 1895 and the Boer Wars forced most Cornish miners to return home, creating a fresh economic crisis in the mining villages. I have been unable to discover what happened to quite a number of MORCOM miners who went to the USA, and the same must have been true of many families whose remittances suddenly stopped. However, today there are also many Cornish families who still keep in touch with their second or third generation "Cornish Cousins" overseas, and some houses still bear exotic foreign names given by returning migrants.
---
To the next section - Migration within England and Wales
OR
Back to - Main menu