Probably the mine owner Thomas Daniell and Captain Joseph Morcom (click this blue link for more information on this painting).
Introduction to the one-name study
Why did we decide to research the MORCOMs?
My wife and myself have been researching the MORCOMs, MORCOMBEs and other Variants for over forty years. We initially thought that the apparently rare West Country MORCOMs would be easier to research than our other fifteen great grandparents who were all Welsh, with unfriendly names for genealogical research like MORGAN, DAVIES, EVANS, GRIFFITHS and THOMAS. Initially the research was done by Anne, but she now has the frustrating task of researching our Welsh ancestry, while I pursue the MORCOM/BE research which has developed into a One-Name Study with far more entries than we initially anticipated.
My own Morcom line
I can trace my ancestral male line back to a John MORCOMB who married Grace Pierce in St Issey parish, Cornwall, on 13th October 1615. By the early 1700s my ancestor, his great grandson John MORCOM, had moved to Gwennap which, in the next century, became the most populated parish in Cornwall because of the employment provided by its copper mines. However, by the 1840s, the mines were suffering from overseas competition and my great great great grandfather Joseph MORCOM left Gwennap for Swansea in South Wales. In subsequent generations Welsh blood diluted the Cornish genes in my line. Apart from three brothers who emigrated to the States in c.1885, my family stayed in the Swansea, Neath & Briton Ferry until the early 20th Century when some members, led by my father and his twin Emrys, ventured back over the Severn to different parts of England. This potted history assumes that I have not been confused by the many Morcoms with identical Christian names in Gwennap. Nor can I be certain that there was not at least one errant wife, over 500 years, to divert the line into a different path!
John Morcomb and Grace nee Pierce head the largest of all Morcom families with over 3,500 members, if we include non-Morcom spouses and their parents and children. We have coded this family as St ISAACjohn, and you will see in the section "List of Morcom and Morcombe family charts" that I have found it convenient to divide the family into 17 sub-codes after c.1760, my own tree being coded St ISSEYjohn GWENNAPjenking.
With the development of Y-DNA testing it would be, at least theoretically, possible to test one male Morcom descendant of each of these 17 lines to see whether the results suggested that they were all descended from John & Grace Morcomb. Even more intriguing, a national gene bank and genealogical database, as in Iceland, might identify the male interloper who had severed one of the assumed blood lines of John MORCOMB!
Why have I included the Mor(e)combes in my one-name-study?
Although our original focus was on MORCOM, a name predominantly of Cornish origin, we soon found it was best to encompass the mainly Devonian MOR[E]COMB[E]s. Very often the family name changed from one surname to the other over generations, especially when families crossed the Tamar and the name was misspelt by parish clerks following the local naming practices. The name means "valley or hollow by the sea" and was probably given in the 1660s or earlier to a number of farms in different areas of the West Country. When a family moved on from a farm with that name they were often known as the MORCOM/BEs. I assume, therefore, that families with the name MORCOM or MORCOMBE are not, necessarily, related to other families with the identical name. Out of 8,812 MOR[E]COM/B/Es and variants in our database, 4,745 are MORCOMs and 2,969 MOR[E]COMB[E]s. There are a further 1,098 who have surnames which are variants on MOR[E]COM/B/E.
For more information about the origin of the surname and the choice of family forenames please see Origin of the surname
Emigration history
The decline of the Cornish mining industry in the mid nineteenth century led to many "Cousin Jacks" migrating to new deep mining areas in the USA, Latin America, Australia, and New Zealand. The MORCOMBEs who left Devon in the late 19th Century were mainly poor rural workers who went to Australia and Canada and generally prospered with their own farms. It is this interesting socio-economic history which partly motivated me to change my ancestral research into a One-Name Study.
Out of the 19,914 MORCOM/BEs and close relatives recorded in our ONS database, the numbers who spent at least part of their lives abroad include 2,326 (12%) in the USA, 428 (2%) in Canada, 3,010 (15%) in Australia, 228 (1.1%) in New Zealand and 70 (0.35%) in South Africa. I expect that further research into the difficult USA sources will increase the proportion in that country. Approximately one third of those recorded in our ONS either emigrated or were born abroad. and the numbers migrating to other English and Welsh counties would further swell the numbers leaving Cornwall and Devon.
Limits of our research and of this web site
As this is a One Name Study, I usually confine my research to the MORCOM/Bes and their children. However collaborative research with correspondents has sometimes led me further into the families of non-MORCOM/BE spouses.
In preparing this web site, the logical priorities, are first the individual entries and the trees to which they belong, and secondly the background accounts in other sections of the web site. I believe, the main framework of UK, Australian, New Zealand and Canadian families up to c.1915 is reasonably complete, though not without errors! Much research still needs to be pursued into the early Cornish parish records, which are increasingly available online, and into the less easily researched USA and South African families. I also hope to gradually add more maps and MORCOM/BE portraits to the website.
The background accounts in the website are a digest of the information in many books, articles and websites about the social and economic background of West Country genealogy. plus individual and family examples from my database. My main sources are included under the headings "Books" and "Articles online or in books" in the section Suggestions for further research. The bias towards Cornish information is partly due to my own interests, but also due to my failure to discover equally rich sources of relevant information about the socio-economic history of Devon, and emigration from that county. This is partly due to the University of Exeter, in Devon, having an excellent Institute of Cornish Studies, but not a Devon equivalent!
Copyright of illustrations
Whenever I know the source of an illustration, I acknowledge where it came from. Unfortunately, I received many of the portraits and other illustrations from correspondents, or downloaded them from the Internet, long before I (or anyone else!) contemplated launching family history websites. I did not, then, consider it necessary to note the source of illustrations which were intended solely for private use. Please let me know if I have, inadvertently, infringed your copyright.
Acknowledgements
I am much indebted in my research to the contributions of many correspondents. It would be invidious to single out individuals here, despite their great contributions, but you will notice the frequency with which certain names appear in my sources.
How can you help in researching the MORCOM/BEs?
I hope this website will provide a focus for turning my One Name Study into an even more co-operative effort than it has already been. If you decide to pursue more details about your own ancestral line, please do feed your findings (always with sources) into me and I will try to keep pace with adding the new information into this website. I have suggested a few possible sources for delving deeper in the section Suggestions for further research.
Please write correcting errors or making additions to the information in the web site. Suggestions for linking individuals or small families to the larger trees would also be welcome. Please, when referring to individuals, always quote the full name and reference number. The reference number is essential because of the number of individuals with identical names in the ONS.database
I can be contacted at my email address: morcom@one-name.org
If you are mainly interested in the MOR[E]COMBEs, Dave MORECOMBE, who has registered his interest in these family names with the Guild of One Name Studies will also be very glad to hear from you. He can be contacted at morcombe@one-name.org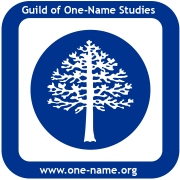 To the next section - How to use this website
OR
Back to - Main menu